"All things changed when I did." - Kay Roberts, MA, President of VITAL WorkLife
It's a new year and a great time for a well being check-up! So, what might this include? Let this be your guide for creating a pathway to well being.
You might be asking yourself—what exactly is a well being check-up? This means you have an interest in expanding your self-awareness, and in particular, the status of your own well being.
What do we mean by 'guide'?
In this context, a guide is a resource (or a person) that advises you or shows you the way. In this article, we'll show you the ways VITAL WorkLife can guide you with a well being check-up.
We'll cover 'what is well being?', highlight a few specific tactics you can do for a well being check-up and we will provide a variety of other tools and resources to help you get started. We encourage you to try a few of these to figure out what works best for you and go with it.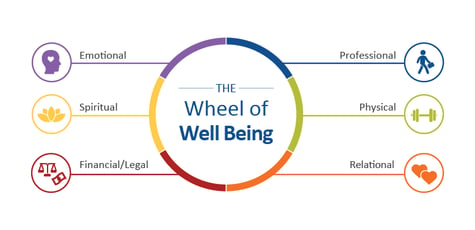 Why Well Being instead of Wellness?
'Wellness' is often associated only with the physical aspects of our health, whereas well being embraces a holistic view and considers all the different areas of our lives to ensure we take a big picture view. The VITAL WorkLife Wheel of Well Being is a tool we use to help individuals evaluate distinct areas of their lives and build overall well being by improving each dimension of their well being. Take our Wheel of Well Being Assessment to help you understand your current state of your well being and set goals for the dimensions you're interested in improving. Let's first review the six dimensions of well being:
Definitions of Each Dimension of Well Being
Do a Quick Check-In On Each Dimension of Well Being
To get a 'quick read' of the state of your well being, simply rate each dimension from 1-10.
1 = very troubled 10 = amazing!
This provides you an opportunity to focus on the area(s) that have the lowest score, while appreciating the areas of your life that are going well! For a more in-depth assessment and actions to take, based on your results, take an individual assessment for each dimension of well being on the VITAL WorkLife App. Once you complete the assessment, you'll get recommendations for how to proceed.
You can do these assessments on your own, or you can sit down with a partner and complete the assessment together! We have found this to be very helpful and wonderful conversations have resulted from this.
Here are some other reflective exercises and resources to consider for your well being check-up:
Reflective Opportunities
Year in Review
Go week-by-week, or month-by-month, and list the items you felt were significant. (Your calendar might help prompt memories). Make sure to include how you felt during the various experiences to gain deeper insight. Your list might include:
Travels
Physical activities
Emotions you notice as you review your life
Social/fun relationship building time you did with friends and family
A time of loss
Quiet, and reflective times (Pause to Refuel)
Who were the people who brought fun into your life?
Was there a big hurdle you overcame?
Once you complete your list, do a mini analysis of your year. What themes do you see? What would you like to be intentional about this year to ensure you have more of something? What is missing? The next steps include setting at least one goal or intention and then put some action steps to it.
Word for the Year
Want to simplify your focus? Choose one word to capture the essence of how you want to create your life. My friend's word for the year: FUN! He wanted more play, joy and fun in his life so each month he made sure that it happened. Define what your word means to you. For help in doing this go to, check out the book My One Word: Change Your Life With Just One Word by Mike Ashcraft and Rachel Olsen.
Next Steps
New beginnings can happen at any time of the year, and you never have to get on the path to well being alone. Coaches and/or counselors are great guides to help you better understand life's detours and boulders. A VITAL WorkLife counselor or coach can help you shine new light on a path that seems too dark. We can be your lifeline in the creative process for your life, or in the toughest situations.
We're waiting to be your guide on your pathway to well being.
EAP Members: 800.383.1908
Physician Well Being Resources Members: 877.731.3949
---
Additional VITAL WorkLife Well Being Check-Up Tools
How to Journal: 5 Steps for Better Well Being (you'll learn the W.R.I.T.E. method for journaling.) There are also a number of free websites and apps you can use if you prefer an online format.
Mindfulness videos and Insights (a great place to start is with our Mindfulness Monday Video Series). Some additional mindfulness resources include:

To get a baseline on your current level of mindfulness, take Berkeley's mindfulness assessment on our blog here: How mindful are you in your daily life? and you can also take the Mindfulness Attention Awareness Scale (MAAS) assessment on the VITAL WorkLife App

Contact VITAL WorkLife to help you with your well being check-up. You can set up an appointment for a Well Being Check-Up with a VITAL WorkLife consultant or access unlimited in-the-moment telephonic counseling.
Additional Resources