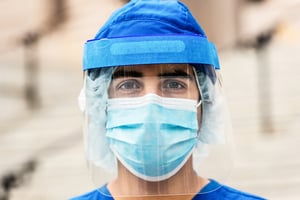 The world as we know it has changed. The COVID-19 pandemic continues on, and we are forever indebted to you—all of the physicians, advanced practitioners and medical professionals who put their lives on the line every day to help others or supported their colleagues in doing so. I feel blessed to be able to provide support to you during this difficult time.
Throughout this year we have provided articles and resources to support you through the many challenges of this year, which I've shared below. In addition to the articles and resources, I also want to emphasize the resources available to you and your family members, that your organization provides to you to support you with whatever you are going through.
Your VITAL WorkLife Well Being Resources include:
Peer Coaching—talk with someone from outside your organization who understands what you are going through and can help you navigate current challenges and pursue personal and professional well being.

Face-to-face and virtual counseling for you and your family members

In-the-moment behavioral health support with a master's or doctorate level counselor, available 24/7

WorkLife Concierge to help with special occasion and everyday tasks

The VITAL WorkLife App to connect you with your resources anytime, anywhere

Financial consultations and resources

Legal consultations and resources

Work-Life resources through your Member Website
Access your resources by calling 877.713.3949 or through the VITAL WorkLife App.
Looking back on this year, our team developed a variety of articles and resources, outlined below, to help you and your family members cope with the many challenges of this year. You may find one or more helpful now.
2020 Articles to Support Your Well Being
I'll end by sharing a recent testimonial from a clinician who used Peer Coaching:
"I have changed the way I view my job and I've learned to better communicate my needs to those around me. I openly share my experience with coaching with my colleagues and encourage everyone to consider talking to a coach or a counselor if they are even beginning to feel the way I was last August. In light of the COVID-19 pandemic, I believe most healthcare providers will need some sort of counseling or coaching to sort through the overwhelming emotions of dealing with the sickness, isolation and death that this virus has caused."
We Can Help
To access your VITAL WorkLife Resources, call us at 877.731.3949 or connect to your resources through the VITAL WorkLife App.
This year has been extremely difficult, and if you are feeling anger, stress, exhaustion, frustration, burned out, or just not like yourself, we are here to help.