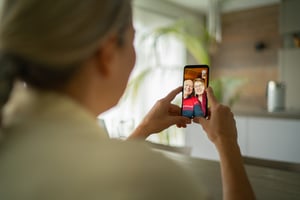 We are in an era of social distancing. We cannot enjoy the company of others the way that we used to in the hope of limiting the extent of this pandemic.
We are in an era of protective distancing; we are physically separated from our patients with PPE and negative pressure rooms.
We are in an era of fear; we fear exposing our loved ones and we are less sure of our own selves. With all of this, it is difficult to find meaningful connection.
Connection, which is one general category of resilience, is about more than just closeness. Connection is about understanding. It is about truly seeing yourself or another person beyond their surface. It is about moving past who we are and moving toward who we are being at any given time.
Here are some ways to increase you sense of connection during this time:
Be Present
There is a reason that meditation has so many benefits. It forces you to quiet yourself, to be present in the present and focus on your body and your breathing from moment to moment. There are many online meditation apps that are free to download. But standard or typical meditation is only one way to "meditate". Singing, praying, dancing, sitting quietly in nature, anything that allows you to just be in the moment, in your body, and in touch with your own understanding of who you are as your joyful self will allow you to increase self-connection.
At work, you connect to yourself by spending time being clear about what you value as a healthcare worker and connecting to those values and noticing the moments that honor your values in the work that you do. Uncover the superpower identity that you individually possess, that you might have lost along the way; the Warrior, the Queen, the Master, the Decider, the Healer, the Glue, the Joker, or whoever you want to conjure.
Have Compassion
As healthcare workers, we think we are masters at the compassion game. But when it comes to self-compassion, we fail miserably. In order to feel self-compassion, we first must be willing to believe that a) we are hurting and b) we deserve relief. It is OK to admit we are anxious and fearful. It is OK to admit that it is taking both physical and mental tolls on us and those around us. It is right to believe that we deserve to be cared for by ourselves and others. When someone asks us how we are doing, it is OK to say that we are tired or scared and allow the other person to see us deeply and to stay in that moment and accept that compassion. When we ask others how they are doing, look them in the eyes, create the space for them to be honest, and let the focus be on their experience before moving on. Noticing compassion when you see it manifested in others also helps your own wellbeing. "I saw the way you comforted the family of that patient. It made my heart sing."
Acknowledge Shared and Individual Experiences
Literally everyone at work is going through the same things we are. It is easy to think that your experience isn't special and that you shouldn't need help or support. But the best part about shared experiences is that they allow us all to stand together. And even though our experience is shared, it is also special and the hardest part for one person might be different for another. Taking the time to acknowledge that we are all in it together yet at the same time asking about what is special for each other will connect us and make us stronger.
Experience Awe
There is nothing like a pandemic to make us feel very small; that nothing we do will make a bit of difference in the larger picture. In truth, we are small. We are one of millions of people across miles of oceans, under uncountable stars in a vast galaxy. Our time on earth is a brief blip compared to the millennia before us. But small doesn't mean insignificant. Take a walk in nature. Feel the sun on your face. Count the stars in the sky. See that the earth is warming as promised, the ice is melting right on time. Notice the things that you never thought to notice before. We are part of something greater and we all have a part to play. Connecting to a greater meaning and purpose, whatever that may be or however you may understand it, allows you to connect to the here and now.
Watch Dr. Leschke's encouraging video for healthcare providers below on Forging Connections on COVID-19:
We Can Help
Physician Well Being Resources members contact us at 877.731.3949 or through the VITAL WorkLife App to access your resources today. Whether you are experiencing grief, anxiety, stress, or need to talk to someone who understands what you're going through, we're here for you. VITALWorkLife.com.