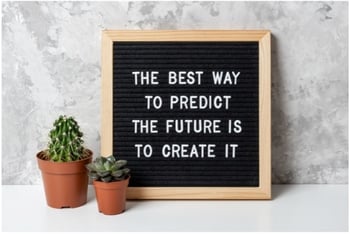 When facing so many unknowns, every day challenges can be overwhelming. Developing and focusing on short and long term goals for your professional and personal life can help! Setting goals and staying on track to achieve those goals can be difficult, but the benefits are worth the effort. For example:
Goals create motivation.
Individuals who define and commit to completing their goals will typically achieve more of the things they desire making them feel more successful in all areas of their lives.
Those who set goals and are successful in meeting those goals are often more satisfied with their work, and have higher levels of self-confidence.
"The reason most people never reach their goals is that they don't define them, or ever seriously consider them as believable or achievable. Winners can tell you where they are going, what they plan to do along the way, and who will be sharing the adventure with them." – Denis Watley2
Resources for Setting & Achieving Your Goals
Goal setting is not easy for everyone and can be very overwhelming. Whatever goals you may be looking to achieve, know that we are here to help! Check out the list below to help spark ideas to help you set and achieve your goals:
We Can Help
As part of your VITAL WorkLife EAP, you have access to a plethora of resources to help guide you through any challenges you may be facing. We are here to assist you in improving any dimension of your overall well being including physical, relational, emotional, professional, spiritual and legal/financial. To access your EAP resources, give us a call at 800.383.1908 or access through your VITAL WorkLife App.
Sources:
1 http://www.selfgrowth.com/articles/The_Benefits_of_Goal_Setting.html
2 http://thepeakperformancecenter.com/development-series/skill-builder/personal-effectiveness/goal-setting/types-of-goals/