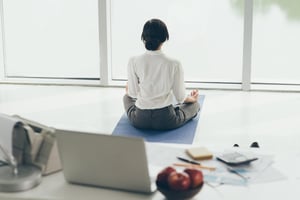 In part 3 of our "Mindfulness Monday" video series, Dr. Yael Rubin, PhD, LP, and VITAL WorkLife consultant, shares how mindfulness and meditation can be helpful in the workplace.
We are externally driven for most of the day, so bringing mindfulness into the workplace can help us be present, aware and calm throughout the day, Dr. Rubin shares in the video.
She goes on to share the experience of a company she worked with who started a weekly mindfulness session in their conference room, which also included yoga, and were happy with the outcomes.
By practicing mindfulness in the workplace, we become more focused, present and can get into the relaxation response. After the mindfulness practice, the employer said people seemed more relaxed, less reactive and were able to enjoy themselves more.
Dr. Rubin has made mindfulness a regular part of her workday, too.
Subscribe to our blog to receive daily or weekly updates from VITAL WorkLife. Part 4 of our "Mindfulness Monday" series will cover "The Cognitive Shuffle." And, watch part 1 and part 2 of our Mindfulness Monday video series with Dr. Yael Rubin now.
We Can Help
VITAL WorkLife counselors are available to assist you in finding efficient ways to build mindfulness into your daily life. We can direct you to online resources, classes available in your own community and can also offer simple strategies and techniques to have a more mindful approach to your work and personal life. Additionally, download our article Mindfulness in Medicine: How Mindfulness Can Help Support Physician Well Being. To learn more, give VITAL WorkLife a call at 800.383.1908 or contact us online.