As we continue on our journey through your Employee Assistance Program (EAP) benefit, we come to your one-stop shop for all things related to your well being; the VITAL WorkLife Member Site. Your member login is specific to you (or your family member's) organization. To access your Member Site, click MEMBER LOGIN in the top right corner of VITALWorkLife.com, or go directly to https://www.vitalworklife.com/member-login/
NOTE: If at any time you need your login information simply call 800.383.1908 to speak with one of our dedicated support staff who can provide it to you and answer any other questions that you may have.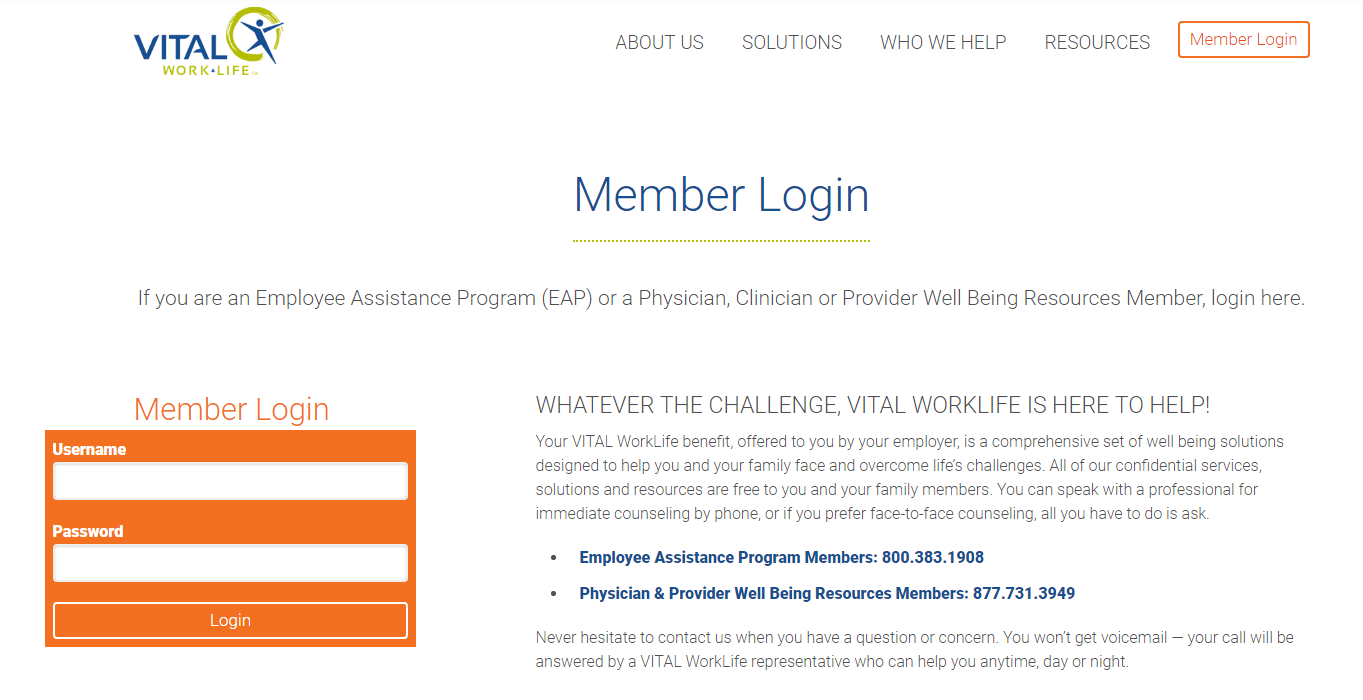 Benefits Overview
Once you've logged into your Member Site you will be directed to the main page. At the top of this page you'll see blue buttons (My Benefits, Phone Consultation, Counseling etc.) that provide an overview of the resources available to you in addition to the best ways to access your benefit.
Online Resources
As you move down the page, you'll see tabs that identify topical areas with our online content. Each topic area comes with numerous articles, online seminars, audio recordings, short eLearning courses and resource guides that allow you to discover and learn more about the different aspects of well being that are of interest to you.
Alternatively, you can also use the search bar at the top of the page to search for keywords of interest.
Topics & Articles
Underneath the VITAL WorkLife logo, you'll see the topics of PARENTING, AGING, MENTAL HEALTH, WELLNESS, WORKING, LIVING AND INTERNATIONAL. When you hover your mouse over any of these, you'll see a drop-down menu with numerous related topics. When you click on any topic, you'll be taken to a page with multiple resources for this topic. Two of the resources include:
Online Seminars
Online seminars are an interactive learning experience you can view at your convenience. Every month you will find a new seminar and you can always access an archive of past seminars.
eLearning Courses
The eLearning Courses are 15-20 minutes, include a visual presentation, brief online quiz and printable certificate of completion. There are a variety of topics to choose from.
Member Site Centers
Each Center allows you to access specific support for the daily concerns that can arise in life. Below we will review two of the Centers available through your VITAL WorkLife EAP benefit. In a future "How to Use Your EAP" article we will cover the Financial/Legal Center and details of your Financial/Legal benefit.
Savings Center
The Saving Center is a discount shopping program available through Perks at Work. Perks at Work partners with many of the online retailers that you already shop with to find discounts and earn points towards future purchases. Whether you're planning your next trip, shopping for a new cell phone or looking to update your wardrobe, the Savings Center is a great place to start to make sure that you're getting the best deals on the shopping you're already doing.
Relocation Center
If you or a loved one are planning your next big move, start by reviewing the resources in the Relocation Center. The Relocation Center offers helpful resources whether you're planning to rent or buy including how to choose a moving company, how to avoid rental scams, choosing the best neighborhood, mortgage information and much more. To access the Relocation Center or any of the other centers available through your VITAL WorkLife benefit select "View all Centers" on the main page of the VITAL WorkLife member site.
We Can Help
Whether you've accessed your VITAL WorkLife EAP benefit before or are looking to connect with us for the first time, your VITAL WorkLife Member Site is the perfect place to start your journey towards improving your well being. We encourage you to log in and spend some time reviewing the wealth of information available to you!
For more information on how to access your EAP benefit or for your company specific login information, contact us at 800.383.1908 and one of our dedicated support staff will provide you with the information you need to take the next step toward a better you.