More and more we are hearing about mental health concerns in the workplace. Recently I spoke on a panel hosted by Marsh & McLennan, an insurance broker serving risk prevention and insurance needs, to address these issues. At the event I saw many head nods in the audience as we covered these topics at length. I am sharing this information now because I believe it's beneficial for everyone to understand why it's important to have a mental health program at work, as well as how to successfully implement a proactive program, such as an Employee Assistance Program (EAP).
Topic: Reducing the stigma of mental health in the workplace
Q: What is your response to companies who say it is not within the scope of the business to be engaging in conversations or offering programming geared toward employees' mental health?
It is hugely beneficial for businesses to offer programming to support their employees' mental health because happy employees are more productive employees.
Shawn Achor, CEO of GoodThink Inc., found your brain, in the positive state, performs significantly and measurably better and business outcomes improve. His research says happy people are 31% more productive, 37% better at sales and doctors are 19% faster and more accurate with correct diagnosis.
Additionally, employees spend so much time at work, spending more waking hours with co-workers than family and friends. What your employees are doing and how they feel at work has a huge impact on their overall mental health and well being.
Q: What should an organization consider when looking to reduce its mental health claims?
Organizations need to realize this is a long-term process. There's no "home run" where we do one thing and "Aha!" the problem is fixed. It takes a whole bunch of base hits to fix the problem.
First, is your culture one of support, promoting well being? For example, do you offer your employees mental health information in multiple venues and is it proactively communicated regularly to help reduce the stigma of asking for help? Secondly, is there an emphasis on prevention and early intervention?
You also need to understand your target audience is the individual employee. Ask your employees what they need to feel supported and cared for and then offer solutions to address their needs. An assessment is a great way to start this process. We use a well being assessment for organizations which we've found very effective. Then we work with the organization to analyze the results and create a plan. Following this, leaders must communicate what they are doing (based on the assessment) to the organization. Active communication goes a long way in showing your employees you support them!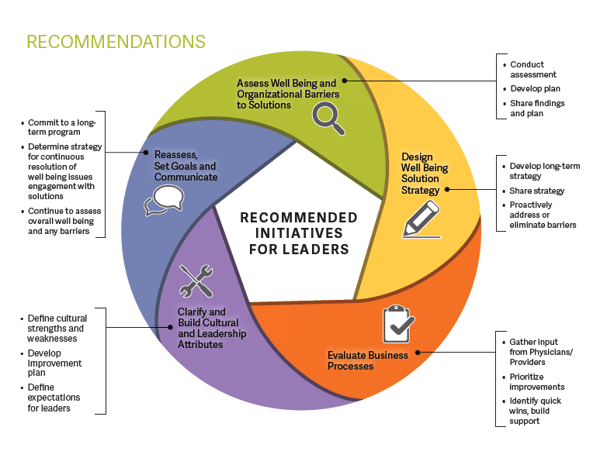 This graphic shows our well being assessment for organizations. Learn more in our 2017 Physician & Advanced Practitioner Well Being Solutions Survey Report.
Topic: Implementing an EAP
Q: What have you found helpful when implementing an Employee Assistance Program?
There are three things we do to help organizations successfully implement their EAP:
Get Buy-In from Leadership
Businesses don't talk – leaders talk. Leaders have to be able to talk about the benefits of an EAP from a personal perspective. For example, we had a contact who was a high-level leader and she used our services because her mother was having health issues. She had to travel 52 times in a year to help her mom, which caused her a lot of stress.
We were able to provide support for her on multiple levels. She was open and vulnerable with her employees and was able to authentically speak to the success of the services. Think about the differences between her as a leader and another leader who says, "Oh you're having an issue with your mom? Call the EAP, they can probably help you."
We see time and time again the direct correlation between leaders who are advocates based on personal experience and the engagement level of their employees.
Take Advantage of Your Employee Engagement Tools
We provide tools to help with employee engagement including flyers, posters, articles and robust online resources with great messaging because we realize the leaders, managers and supervisors have to carry the message for us to the end user, the employee. What is most effective within an organization will depend on their culture and their communications processes. We help organizations determine new ways to break through the noise to help their employees understand the support and resources made available to them because their employer cares for their well being.
Utilize Engagement Reports
We create and analyze quarterly engagement reports to see what resources our clients are leveraging, what's working, what's not working and then share with our clients this information and what it means in regard to supporting their employees. We are a national behavioral health consulting practice, so we work really hard with our clients to help them be successful with the tools they are investing in for their employees.
Q: What are the most frequent mental health-related issues addressed when utilizing an EAP?
Based on our data in 2017 these issues were: legal, marital/partner concerns, family/children, stress reaction and anxiety, followed by depression, chemical assessment referrals and workplace conflict.
Mental health concerns in the workplace, and in the population as a whole, are becoming more common. Life's challenges seem to be coming at us at a faster pace these days. The good news is there are efficient, cost effective solutions available to help support your employees and their families meet life's challenges. We'd love to talk to you about how we can partner together to get your organization on a sustainable pathway to well being.
We Can Help
VITAL WorkLife can help with organizational consulting for cultural renewal, well being assessments and more. For more information about our well being solutions for organizations and employees, including our robust Employee Assistance Program, give us a shout.