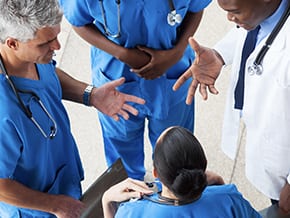 A Merger or Acquisition (M&A) can quickly become "toxic" if the two entities merging don't understand each other's needs and priorities. In healthcare, the practitioners being acquired struggle with new systems and processes.
The acquiring organization may view practitioners' complaints as evidence of their inflexibility. Understandably, the toll on everyone's well being can be heavy and has the potential to interfere with or slow down the successful integration of the acquired and the acquiring organizations. Communication is critical in building needed understanding between the two organizations. Here are four proven communications strategies to detoxify a healthcare merger or acquisition.
1) For Leadership: Create a Culture of Openness

Creating this culture means, first of all, emphasizing open communication as a value in the organization. The next step is to establish both formal and informal avenues of communication so practitioners can voice concerns and ask questions. Offering regular individual and small-group meetings, as well as larger "town hall meetings" across disciplines, is an effective way to facilitate this open and collaborative culture.
2) For Leadership: Assess, Set Goals, Communicate and Repeat
In our 2017 Physician & Advanced Practitioner Well Being Solutions Survey Report we outline a process for identifying, developing and communicating physician well being solutions and interventions in healthcare organizations. This process of supporting well being during M&As is especially effective as it helps to reduce stress during a time of very stressful change:
a) Assess barriers to, a smooth M&A: practitioners' feelings, workload demands, staffing issues, etc.
b) Set long-term goals for the M&A: orientation for new practitioners, changes in process to accommodate them, facilitate ways to foster openness and communication, etc.
c) Communicate the goals and the plan throughout the organization.
d) Execute the plan.
e) Gather input from practitioners and leaders; assess the plan to understand what was most valuable and important to them during the execution phase.
f) Formulate an adjusted plan.
g) Communicate the plan.
h) Execute the plan.
i) Continue to evaluate, gather input, adjust, improve and communicate.
3) For Acquired Practitioners: Bring Up Problems
Communicate to leadership as problems occur. Avoid being the "iron doc" – a syndrome where physicians remain stoical under all conditions. Staying silent in the face of disturbing issues allows resentment and stress to build and does not help resolve problems or make improvements.
4) For Both Parties: Share the Vision
As issues come up, it can be easy to forget both practitioners and leaders share the same key goals: patient safety, professional satisfaction, good community relationships and a financially healthy and viable organization. Communicating, and often recommunicating, these shared values is one of the best "antitoxins" for M&As.
If you'd like to learn more, read our article Want a "Non-Toxic" Merger or Acquisition? Then Get Real about Time, Expectations and Attitudes or visit our Physician Well Being Resources page.
We Can Help
Contact us to learn more about how our robust Physician Well Being Resources can help your healthcare organization.