To Make a Merger or Acquisition Work, Put Yourself in the Other Party's Shoes
As more and more solo practitioners and independent practices choose to join healthcare organizations and as organizations themselves merge, some struggle is inevitable. After all, two different cultures are coming into contact and sometimes these cultures conflict. There are proven ways to make the "marriage" work.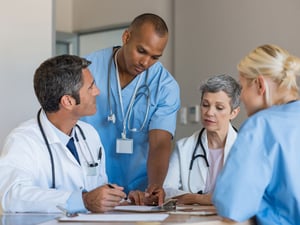 The most basic is an attitude: mutual understanding. Those in the acquiring organization need to understand although these new practitioners want to hit the ground running, they have legitimate concerns about their new status, workload, productivity demands and much more. They've given up familiar routines and may be bringing with them patients who trust them to continue the kind of care they have come to expect.
Those who are acquired need to understand requirements concerning pace of work, productivity and other administrative issues are directly tied into the financial health, and thus the viability, of the organization they've chosen to join. All of which trickle down to patient's safety and satisfaction... the ultimate shared goal.
How Long Do You Think It Takes for a Merger or Acquisition to "Take?"
You've been acquired or you're part of a merger. How long do you think you will need to get the feel of the new organization with its new procedures? How long before the new practitioner or practitioners are up to speed and acclimated into their new roles? In our experience, many people say "three or four months."
The truth, again based on our experience, is usually two to five years.
Why the difference? Because many people involved in M&As have unrealistic expectations not taking into account how human beings actually face and navigate change. Uncertainty about roles, struggles with new procedures, resentment of new administration requirements, practitioners who "don't want to change" or misunderstandings can add up to long-term headaches.