Most physicians are economically secure but chronically "time-poor." The minute-by-minute, day-by-day demands of a practice, writes Shannon Aymes, M.D., in Medical News Today, can leave physicians with very limited time for "needs such as sleep, nutrition, exercise, spiritual pursuits and interactions with family and friends." In addition to lack of time, physicians still need to take care of everyday tasks like grocery shopping, laundry, cleaning and bill-paying.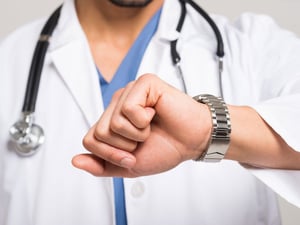 "With most physicians working 40 to 60 hours per week and nearly 20 percent reporting 61 to 80 hours each week, after sleep," she asks, "how easy is it to fit in this elusive 'time outside of medicine'?"1
One answer, writes physician coach Ryan Bayley, MD, on the MedPageToday site KevinMD, is to use money to buy time. Buy time by hiring people to do those daily-life jobs. And spend the time "bought"2 with family and friends, decompressing, enjoying life outside the medical workplace.
"You can outsource almost anything you can think of," according to Bayley. "Any mundane task that you have been putting off doing, or anything you dread doing every week, is ripe for paying someone else to do."
Our WorkLife Concierge, helps with personal and family needs, event planning, household maintenance and many more daily living tasks to alleviate time-starved physicians and advanced practitioners. It is part of a suite of services in the Physician Well Being Resources, a preventative solution purchased by healthcare organizations to support their physicians and providers.
Does buying time like this actually increase physician well being?
Ashley Williams and Elizabeth Dunn's research with samples of the working population in multiple countries, reported in the Proceedings of the National Academy of Sciences, concludes "working adults report greater happiness after spending money on a time-saving purchase than on a material purchase. Together, these results suggest using money to buy time can protect people from the detrimental effects of time pressure on life satisfaction."3 And remember: practitioners who can reduce time-stress in their personal lives are more likely to be fully engaged in their work. The ROI of physician engagement is measurable. Engaged physicians are more productive.4 They are also less likely to leave their position and the cost of replacing a physician can often reach a million dollars.5
We Can Help
Contact us online to learn more about our unique Physician Well Being Resources, geared to reduce physician burnout.
References:
"Work-life balance for physicians: The what, the why, and the how," MedicalNewsToday, July 26, 2017. https://www.medicalnewstoday.com/articles/318087.php

"Doctors can buy happiness by buying time," KevinMD, November 25, 2017.

https://www.kevinmd.com/blog/2017/11/doctors-can-buy-happiness-buying-time.html

"Buying time promotes happiness," JNAS, June 13, 2017. http://www.pnas.org/content/114/32/8523.abstract
"Want to Increase Hospital Revenues? Engage Your Physicians," Gallup, June 5, 2014. http://news.gallup.com/businessjournal/170786/increase-hospital-revenues-engage-physicians.aspx
"Understanding the Real Costs of Recruiting and Training Physicians Today," by Lori Schutte of Cejka Search, in Recruiting Physicians Today, June,

2012.

http://www.nejmcareercenter.org/minisites/rpt/understanding-the-real-costs-of-recruiting/