There's no constant like change in heal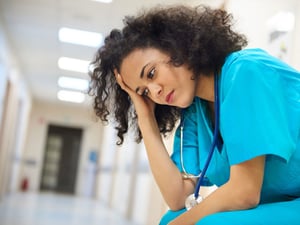 thcare today. Shifts in technology and compliance, such as the adaptation of Electronic Medical Records, have been shown to be a major source of stress for physicians. "Electronic Medical Records require much more attention of the physician than [record-keeping] did before," says Craig Uthe, MD, Medical Director of Physician Well Being at Sanford Family Medicine in South Dakota. "It's like learning a foreign language."1
These 4 steps can help support physician resilience in the face of challenges:
1) It's crucial first of all to acknowledge the need for support at the institutional level, as well as support for other aspects of physician well being.
2) Then, to be able to spot when practitioners are at risk for burnout before it actually sets in, or to curb it in early stages, assessment tools are key. A 2017 AMA study recommends ongoing annual assessments.2 According to Dr. Uthe, Sanford Health "offers any physician an evaluation for burnout," while also giving leaders and department chairs the resources they need to assess the signs of burnout within their departments.3
3) Setting up well being workshops like the half-day courses offered at Sanford can educate leaders and the physicians they lead on the difference between normal stress and early warning signs of burnout, for example.
4) Creating cross-disciplinary well being committees responsible for understanding physician resilience and its challenges,4 as our 2017 Physician and Advanced Practitioner Well Being Solutions Survey Report by VITAL WorkLife and Cejka Search recommends. The committees can determine creative solutions and then work as advocates for well being within the medical workplace.
As a healthcare leader, it's important to acknowledge and understand the need to support physician resilience. Concern for the well being of practitioners has been shown to be one of the most important drivers of their engagement—which can lead to improved patient care, satisfaction and quality.
Learn more about building leaders to help support physician resilience by contacting VITAL WorkLife.
References:
1. Dr. Uthe (2017, Nov 3). Phone interview.
2. AMA, "Preventing Physician Burnout" https://www.stepsforward.org/modules/physician-burnout
3. VITAL WorkLife, "How to Lead the Way Toward Physician Well Being"
4. Physician and Advanced Practitioner Well Being Solutions Survey Report by VITAL WorkLife and Cejka Search, p. 27