Does your organization have boots on the ground to help your physicians well being?
The need for organizations to actively support the well being of their physicians and advanced practitioners is being acknowledged across the industry today. However, it takes more than acknowledgement to make forward progress. Appointing one or more Well Being Advocates is one of the most effective ways to make well being an integral part of your organization's culture, especially as a first step.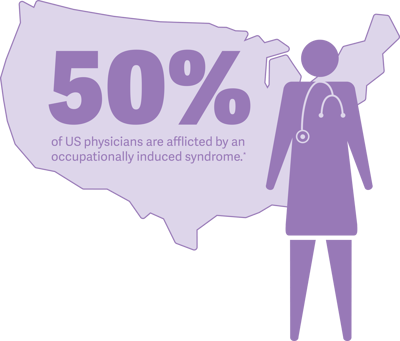 What is a Well Being Advocate?
A Well Being Advocate is an influential member of your organization who agrees to help support your organization's efforts to improve physician and provider well being at the grass roots level by paying attention to the needs of their colleagues—whether this involves spotting incipient burnout or other potential crises, or supporting professional development and connecting those colleagues to the appropriate resources.
VITAL WorkLife describes an Advocate as, "the inspirational voice for the organization regarding the well being of physicians and providers, access to solutions and resources and promotion of work/life balance."
What Advocates Commit To
VITAL WorkLife's Well Being Advocate Program calls upon Advocates to:
Believe in and actively support their organization's efforts to cultivate healthy work practices and a healthy workforce.
Thoroughly understand VITAL WorkLife's well being resources for physicians and advanced practitioners and the many ways they can access and use them.
Be an effective liaison between physicians and leadership on well being issues.
Identify opportunities for promoting the program resources—and its benefits—at department meetings, group events, wellness/well being committee meetings, trainings, retreats and more.
Communicate, distribute and promote the resources using program tools, including wallet cards/flyers/posters, newsletters, scripts and supporting visuals for presentations, case studies/testimonials, etc.
Give appropriate feedback to VITAL WorkLife, based on their experience, in order to improve the program.
Assess their own well being and model this awareness; utilize the VITAL WorkLife resources themselves, as needed.
Advocates also commit to an initial onboarding process with VITAL WorkLife, including three sessions of coaching—and additional sessions as needed—to help them in successfully executing their role.
---
Read more about the Well Being Advocate program, the Advocate's responsibilities and why the program was developed in our article "How to Improve Culture with a Well Being Advocate Program."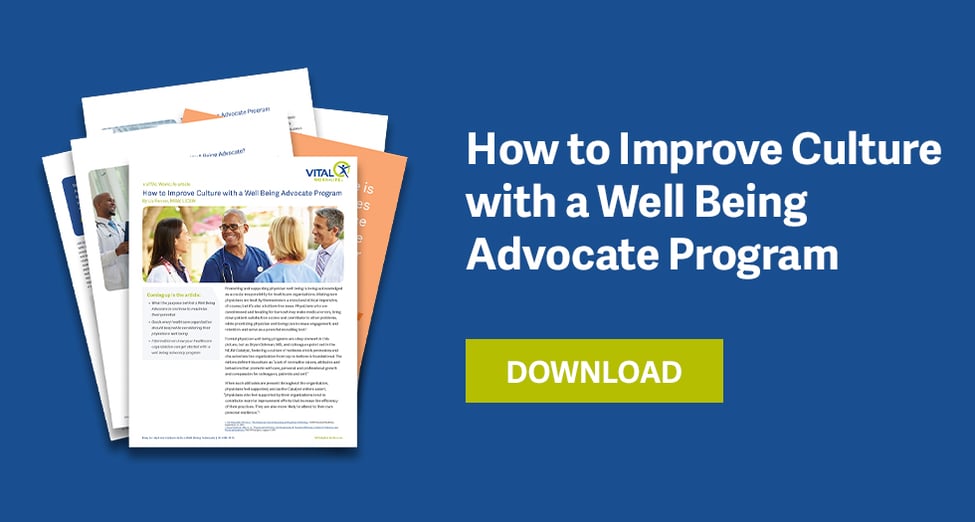 * Tait Shanafelt, MD et al., "The Business Case for Investing in Physician Well-Being," JAMA Internal Medicine, September 25, 2017.