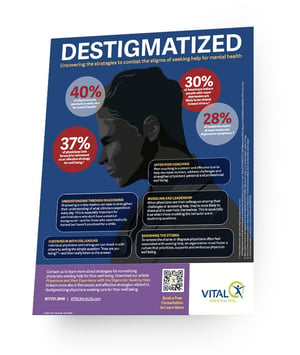 Physicians work in one of the most stress-filled and challenging fields. This highly intense work environment often takes a significant toll on physicians' well being. Unfortunately, they don't often seek help for themselves as doing so is clouded with a range of social and professional stigmas that more deeply threaten their well being and identity—this ultimately impacts the health of the organization.
What Drives The Stigma For Seeking Help, And What Can Be Done To Eliminate Those Stigmas?
In this infographic we take a look at factors that drive the stigma of seeking help and strategies physicians and leaders of healthcare organizations can leverage to normalize seeking support for their well being.
Download the infographic to learn about ways to combat the stigma of seeing help.
For more on how your healthcare organization can foster a healthy work environment download our article The Stigma for Seeking Help to learn more.