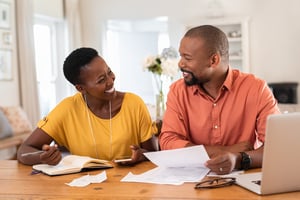 From one person to another, there are a broad range of financial situations and stressors you may be experiencing because of the COVID-19 pandemic. According to a study by the National Endowment for Financial Education, 88% of Americans say the COVID-19 crisis is causing stress on their personal finances.
This Insight is an "a-la-carte" tool offering you tips and resources for a variety of financial situations. Use what works for you, and know that no matter what you are experiencing, VITAL WorkLife is here for you and can help. Your VITAL WorkLife Employee Assistance Program (EAP) includes a variety of financial and legal resources, including:
A Free Consultation with an Attorney or Financial Consultant
Need a financial consultation?

Contact us at 800.383.1908 and we will connect you with a financial consultant as often as you need for your financial questions and concerns, debt management, etc. If additional preparation or more specialized support is needed, a financial consultant can refer you to a more appropriate resource.
Have a legal question? Contact us at 800.383.1908 to be connected to our Legal Resource Network who will provide a free 30-minute consultation (generally within one business day). They will address your legal concern and can also connect you with a local lawyer in the network at a discounted rate (25% in most instances) if requested.
You can also connect with online financial and legal resources on a variety of topics, including budgeting, protecting your wallet and health from pandemic scammers, debt management plans, how to apply for unemployed benefits and much more. Find all of these resources by logging on to your Member Site.
Below are a number of financial situations you might be facing, with tips and resources (including resources from your Member Website) to help you navigate through.
Budgeting, Prioritize Expenses and Saving
In the wake of COVID-19, a recession, job loss and furloughs—many Americans have drastically cut back on spending over the last few months. If you haven't already done so, take this time to reassess your budget and see where you can save.
Do you have areas where you can cut back? Subscriptions? Entertainment? Be creative with your cooking to save money on groceries. Following the guidelines from your state and the CDC, focus on free entertainment in your community, such as going for a bike ride, walking or fishing.
Make sure you have at least a small safety net in your emergency fund, and if you have credit card debt, pay down the highest interest rate cards first while making minimum payments on your lower interest rate cards.
Here are some resources that can help:
Budgeting in Uncertain Times (VITAL WorkLife Member Website)
Financial Fitness: Living with a Realistic Budget (VITAL WorkLife Member Website)
Making Your Money Work for You: A Debt Management Plan (VITAL WorkLife Member Website)

With record low interest rates in March and April, you may want to reconsider refinancing your mortgage or student loans. Your bank is a good first step in having this discussion.
Furlough, Unemployment or Job Loss
Unemployment rates soared to close to 15% in April, the highest since The Great Depression. Many Americans live paycheck to paycheck, do not have an emergency fund and/or have significant credit card debt. The economic ripple effect of the pandemic has been monumental. Here are some resources that can help if you or a loved one has lost their job or been furloughed due COVID-19:
How to Apply for Unemployment (Member Website Resource)
If you or a loved one has been furloughed and are feeling anxious or worried, contact us at

800.383.1908

for in-the-moment telephonic support, available 24/7
Connect with local community resources that are available to support with unemployment, food, housing, transportation, etc.
Approaching Retirement—Now What?
If you're approaching retirement—first and foremost—don't panic. Ideally, you already have a financial plan in place that can withhold the market fluctuations we are experiencing. Now is not the time to be moving things around too much.
Talk with your personal financial advisor or contact us at 800.383.1908 to be connected with a financial consultant who can answer any questions and provide guidance on if any changes need to be made to your retirement accounts once the market has recovered.
If you do make changes once the market has recovered, choose safe investments like bonds, ensure you have a balanced portfolio and aren't investing too aggressively. It's a good time to rebalance and reassess your risk across the board.
Volatile Market and Investing
If you are financially secure, you may be interested in finding ways to increase your net worth during a recession and there are numerous resources available to assist you with this.
A good first step is to access your unlimited financial consultations through VITAL WorkLife. You can discuss your financial situation with one of our consultants and get advice on steps you can take to improve your financial well being. Contact us at 800.383.1908 to get started.
The Fear of Losing Money (FOLM) goes way up during a recession but resist the urge to sell your stocks or move around your retirement funds. Financial markets have a history of fluctuations—and the economy will recover again—so focus on the long haul with your investment planning and resist the urge to "get out now."
If you find yourself spending less, take the money saved and increase your monthly contribution to your retirement accounts or emergency fund.
Loan Forgiveness and Relief
Below is a list of resources providing information on loan forgiveness—these may be especially helpful if you or family member has student loan debt.
We Can Help
MEMBERS:
To read more about How to Use Your EAP: Financial/Legal Resources click HERE. No matter what you're experiencing, VITAL WorkLife can help. Contact us through your VITAL WorkLife App or call 800.383.1908 to access your resources today or log onto your Member Website HERE.
If you are interested in learning more about our Employee Assistance program to support the well being of your employees and their family members, click HERE.
Sources: