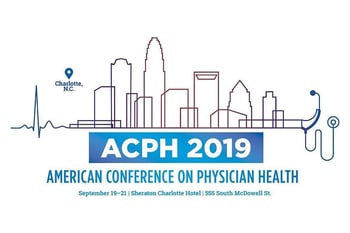 This years' American Conference and Physician Health (ACPH) was held Sept 19-21 in Charlotte, North Carolina with the theme of "Activating Health System Change to Promote Physician Well Being."
The three most common topics covered throughout the conference were:
Women physicians and female-specific issues with respect to burnout
A focus on changing and improving educational programs and support for residents
Culture and organizational workplace change are needed to improve physician well being
A few of the additional topics covered were peer support, intervention research and individual assessments to improve resilience.
One of the most impactful statements from the conference was made in the closing keynote by Dr. Colin West, of Mayo Clinic, who said, "How can you afford not to support physician well being?"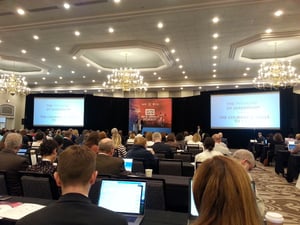 The answer is, you can't.
Talking about the barriers to supporting physician well being, he highlighted data provided by Dr. Mickey Trockel of Stanford Medicine, that says the cost to recruit and onboard a new physician—on the low end—is $250,000. Dr. West then gave a great analogy to support his answer. He compared a business that has a utility leak, costing the company $250,000 per year, to a health system. He asked, "Would you make everyone work harder to make up the $250,000, or would you fix the leak?"
You'd fix the leak.
Finally, Dr. West compared the healthcare industry to professional sports—both have key individuals who are the central focus of the organization. Until recently, there has been a negative stigma around needing mental health support in many major sports, and a general feeling that something was wrong with those who couldn't handle the pressure of the game.
However, in the last several years, many teams have begun offering a wide variety of resources, including in-house sports psychologists, to help players get the help they need and remove the stigma of getting help. After all, they have invested millions of dollars into athletes and count on them for the success of the franchise. Sound familiar?
The case has well been made for the need to support physician well being. Every organization needs to take a hard look and evaluate what they are currently doing—and what more needs to be done—to support the physicians and providers, and all medical staff, in their organization.
We Can Help
We offer end-to-end resources designed specifically to help physicians and providers address the challenges they face inside and outside of the workplace. Physician Well Being Resources offers a whole set of behavioral health resources, including:
Counseling and in-the-moment telephonic counseling available anytime, day or night
Financial/legal resources and consultations
And more
If you are interested in learning more about VITAL WorkLife and our proactive solutions that support work/life balance and physician well being, contact us online.