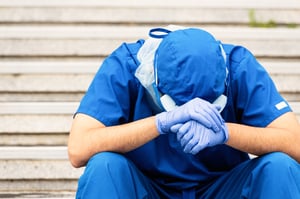 Do any of these scenarios sound like a physician at your organization?
Intimidating or patronizing towards coworkers and or patients?

Disruptive outbursts in the operating room or near patients?

Failing to meet necessary performance needs such as meeting attendance, returning patient phone calls or neglecting the upkeep of charting?
These are all examples of a physician in distress. Having a distressed physician in your organization effects not only the care teams and patient satisfaction scores, but it can also lead to medical errors.
The goal of our Physician Intervention solution is to help the organization retain a valued physician by effectively addressing problem behaviors, such as these, at the earliest possible stages.
Our Approach
Our approach works! In fact, we have been collecting survey data since 2016 to solidify the positive impact our Physician Intervention solution has.
"The performance of the physician was substantially improved—increasing productivity and easing tension among team members. Additionally, we were able to retain a valuable employee and avoid the high costs of recruitment and loss of productivity."
– Sal Mancino, Vice President of Human Resources Stamford Health
To read the results of our survey, download our article, Do Physician Interventions Work? A Resounding YES! Data Shows the Immense Positive Impact of a Physician Intervention.
We Can Help
To learn more about our Physician Intervention solution or our other unique solutions for physicians and healthcare organizations, contact us.