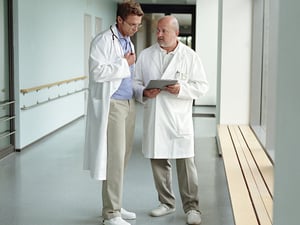 Mergers and Acquisitions
When Mergers and Acquisitions (M&As) happen in healthcare, it's inevitable the physicians and advanced practitioners new to the acquiring organization are going to feel stress. They have to learn new rules, procedures, altered schedules, productivity requirements, sometimes even a new EMR and a host of other factors, along with the regular daily stresses of practicing medicine.
To maintain quality of care and support well being at a time like this, organizational leaders need to observe some important principles, including understanding the implications of the changes, having open communication, being flexible in processes and workflow as well as giving the M&A time to "take".
To support these principles here are some concrete practices—measures leadership can take to help their physicians and advanced practitioners make the adjustment in their new environment.
1) Set up a robust orientation program.
Not just a best-practices guide with light conversations-but a full program. For example, a hospital in Minnesota devotes a full five days to orientation with a half-day follow up six months after the merger to ensure everything was on track and new issues had not emerged!
2) Emphasize EMRs:
It's no secret electronic medical records are a major challenge for many physicians. Especially if the acquired practitioners are going to be dealing with a new system or have new demands related to the system. Make sure your coverage and training of EMRs is thorough. Encourage questions, and answer them.
3) Lighten the load:
Consider giving the new physicians a lighter workload—with no reduction in pay—during the onboarding period. Let them ramp up as they learn the new system the same as any new physician you onboard.
4) Formalize mentorship:
Pair each physician new to the organization with one who is familiar with it and establish this mentor as the prime go-to person for the newcomer. This helps accelerate learning the system, fosters integration into the new culture and builds relationships.
5) Regularize feedback:
Set up a regular monthly system—preferably small group face-to-face meetings for collecting feedback and answering questions from the acquired practitioners. Create a process for gathering this information, making necessary changes and reporting back to the organization on the suggestions/questions and corresponding actions taken helps to open dialog and ease concerns. Giving acquired practitioners a voice and acknowledging suggestions for improvements with action will raise the level of engagement and improve the success of your merger or acquisition.
While we agree it's true everyone will feel stress, we still want to focus on the well being of physicians and advanced practitioners based on the focus of our content for this campaign, your service offerings and making it clear that this is the audience we're speaking of right away in the post.
Physicians and providers face challenges unique to the medical profession. These challenges are multiplied during stressful times of an M&A. Visit our Physician Well Being Resources page to learn more about proactive solutions to support your team during these times and ongoing.
To learn more, read our article Want a "Non-Toxic" Merger or Acquisition? Then Get Real about Time, Expectations and Attitudes.