Emerging evidence suggests vegetable consumption is essential to a healthy diet.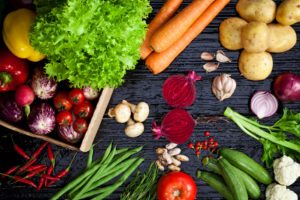 More emphasis is being placed on the importance of eating a variety of vegetables every day — which is key to a healthy diet. This is because no single vegetable provides all of the nutrients a person needs. It can be difficult to know how to pick out vegetables at the grocery store. Also challenging is what recipes to use and how to wash, cut and prepare them. But, there are a rising number of movements working to combat this challenge.
Just a few of the advantages to eating a diet rich in vegetables include:
lowering blood pressure
reducing the risk of heart disease and stroke
preventing certain types of cancer
lowering the risk of digestive problems
There are many programs dedicated to increasing awareness around the importance of eating vegetables while working towards making vegetables accessible for more people. These projects have shown how vegetables give back to local communities by supporting the people that live in them, in addition to providing great health benefits. Most people don't eat the recommended five servings per day. Just the same, doesn't mean there isn't anything being done to proactively increase vegetable consumption.
VeggieEAT Project
A study by a team from Bournemouth University led by nutrition expert and university professor, Heather Hartwell, states while children are taught at a very early age the importance of eating vegetables, the reality of our current health status shows otherwise with the substantial rise of obesity and other health-related diseases. The project, called VeggieEAT, focuses particularly on vegetable consumption by young children and older generations. They hope by actively working in the food industry - specifically in schools and hospitals - they can develop and incorporate real-life solutions to others get the right nutrients in their diet by consuming veggies across the lifespan. This not only encourages increased vegetable consumption in individuals, but teaches the advantages to eating a healthy diet. The project is making an impact children and older adults within the community. VeggieEAT is one example of many other projects working towards encouraging healthier habits among individuals.
Community Supported Agriculture
Community Supported Agriculture (CSA) farms, another community-based project, proactively encourage vegetable consumption. They work much like a subscription. Instead of buying the produce from a grocery store you pay a 'membership' to a local farm and in return you receive a weekly share of fresh, healthy & local vegetables from the farm, lasting 14-20 weeks. There is variation when it comes to products you receive depending on the farm. This is great way to try new vegetables you may not normally buy in the grocery store. Plus, you are supporting local farmers!
However, it is important to note purchasing a share of a CSA always carries a risk. If the farm gets bad weather they may lose some crop, but the idea of shared risk is what creates a sense of community and a stronger connection to the farm. Some of the benefits to CSA include:
Access to a wide variety of fresh, healthy vegetables
Produce free of synthetic pesticides, herbicides or GMO
Flexibility of trying new vegetables and exposing yourself to new produce
the opportunity to support your local farmers
To find a CSA near you just search the web or CLICK HERE.
While these are just a few examples, there are a variety of organizations dedicated to encouraging vegetable consumption while giving something back to the community. A few other examples becoming more prevalent in different areas are cooking classes designed to teach kids about different vegetables and how to cook them, community gardens in neighborhoods and local Farmer's Markets.
We Can Help
Contact VITAL WorkLife at 800.383.1908 or through the VITAL WorkLife App to speak to our peer coaches, counselors and mentors, who can help you set up and accomplish your goals and act as an accountability partner.
FOR MORE INFORMATION
For more information about our comprehensive suite of well being solutions, contact us online.
Sources:
https://www.hsph.harvard.edu/nutritionsource/what-should-you-eat/vegetables-and-fruits/
http://minnesotagrown.com/product/community-supported-agriculture-csa-farms/
http://bakersacresfarm.com/products/find-our-produce/csa-shares/benefits-of-buying-a-csa-share/