Well Being: A Holistic Approach
The VITAL WorkLife Wheel of Well Being is a framework used to evaluate distinct areas of life and build well being through work/life balance. Each dimension of life impacts the potential for well being. By creating a more balanced life, a more secure and complete sense of well being is achieved.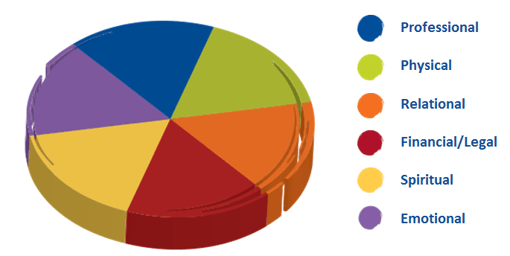 By taking a holistic approach to work/life balance, each area of life can assessed to both be aware of, and then to address issues, impacting well being. Taking time to reflect on both what IS working, as well as areas of growth, can help determine where to focus energy in order to capitalize on the greatest opportunities for balance. This approach also helps to maintain those areas in life that are going well, while identifying any new actions for the areas of life needing nurturing to ensure well being efforts have lasting effects.
Wheel Dimensions
Life can be divided into key dimensions all working together synergistically to create the uniqueness of each person. Each area of life is interrelated with the others. However, at any given time, life can become overwhelming. When we take a moment to assess the current situation, the Wheel of Well Being helps focus on a specific key dimension. The following definitions will provide support as overall balance and well being is explored.
Professional - Providing services for financial compensation while feeling a sense of career fulfillment coupled with a sense of value for contributing something of worth to the organization and/or society.
Physical - All aspects of your body including your general overall health, your senses, intellect and the type, and consistency, of the activities you partake in.
Financial/Legal - FINANCIAL: The management of money, credit and other debt and asset issues. LEGAL: To understand the law as it pertains to your personal or professional welfare.
Spiritual - Exploration of a life of meaning, purpose, values and beliefs, the role of spirit or soul, and/or a deeper understanding of self and your connections to the larger community.
Emotional - Characterized by a stable mood, ability to experience, manage and express emotions, acceptance of self and others, a positive outlook and freedom from worry.
Relational - Interactions and connections between individuals and groups, including professional relationships in the workplace and personal relationships with family and friends.
To learn more, you might find it helpful to assess your own well being. Take this quick assessment to determine the balance for each dimension of your Wheel of Well Being.
Source: Jane E. Myers, Thomas J. Sweeney and J. Melvin Witmer, Journal of Counseling & Development, first published online: 23 DEC 2011
We can help.
Every dimension of the wheel is essential to your personal overall well being. If you feel one dimension, or several dimensions, are lagging behind or out of balance, we're here to help. If you have concerns about your Wheel of Well Being, whether it be in your professional or personal life, talking to a counselor or peer coach as part of your VITAL WorkLife benefits can help you develop a plan to get your Wheel of Well Being into balance or set goals to build your own pathway toward well being.
Call VITAL WorkLife 24x7x365 for the support you and your loved ones need.
EAP members call 800.383.1908
Physician Well Being Resources members call 877.731.3949