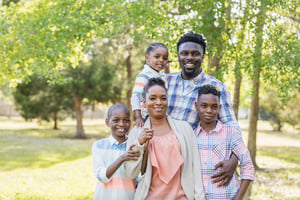 When the lyrics "Summertime and the living is easy" were written, most families didn't have two working parents. If your kids are attending summer camps, you probably registered for them months ago so you'd have some place for them to be while you're at work—but what do you have planned for after work and weekends?
Unless you want to default to a summer in front of the television, consider getting ready now.
Investigate Local Opportunities
When you get home and you're tired, thinking up something to do can be exhausting. Make a list of fun, easy things you can do on a minute's notice—and stock up on things you'll want to have with you. Here are some suggestions - get creative when making your list!
Off-Leash Dog Parks: Many communities have dog parks where you can stretch your legs while watching deliriously happy pups romp around and play free of constraint. Some are located near beaches or river walks and may involve a longer drive. Google any located near you now so you can pick up and go whenever you've got time.
Picnic Dinners: While you can pick up fast food and eat in a nearby park, you may enjoy your impromptu dinner more if you've stocked your car with a picnic kit complete with a blanket to spread, bug spray, sun screen, a sun umbrella, collapsible chair, water bottles and any other items you typically want to have along.
Midweek Movie Nights: Many theaters offer discount movie nights on Mondays or Tuesdays. Make it a regular date for the summer and check the listings on Sunday so movie night becomes a part of your routine.
Local Parks: Many cities have numerous parks available for a minimal fee (or free) so your family can try a new playground, go hiking, swimming or biking. A quick online search will show plenty of options. Often times local parks will also host free "Music in the Park" series in the evenings and weekends.
Local Museums: Summer is the perfect time to check out your local museum. Often museums will have a free or discounted night during the week, and will have special kids events throughout the summer.
Make Travel Plans Now: How Your EAP Benefit Can Help
Start thinking about your travel plans now—and members can use the travel planning resources available to you online on your Member Website. You'll find a wealth of information on:
Air Travel
Customs and Courtesy
Disability Travel Resources
Family Fun
Hobbies
International Travel
Learning at Any Age

Mentor or Volunteer
More Travel and Leisure Tips
Passport Info
Recreation
Travel Safety
Traveling With Children
Traveling With Pets
Accessing these resources is easy. Simply follow these steps:
To find these articles, go to VITALWorkLife.com, click on Member Login and enter your user name and password.
On the page that comes up, in the left hand column, click on the "Your Work & Life Resources" button.
In the shaded area at the top of the screen, click on the pull down menu that says "Living" and pull down to "Travel and Leisure Time."
Contact VITAL WorkLife at 800.383.1908 or access resources through your VITAL WorkLife App.