"Family members, friends, and neighbors devote countless hours to providing care to their relatives or loved ones. During National Family Caregivers Month, we recognize and thank the humble heroes who do so much to keep our families and communities strong." – President Barack Obama, NFC Month Proclamation 2012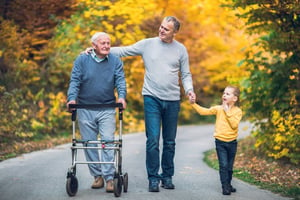 Every November, since 1997, the President has issued a proclamation recognizing National Family Caregivers Month. While the number of hours of care provided may be countless, the number of caregivers is known. The National Alliance for Caregiving and AARP have estimated 43.5 million people in the U.S. have provided unpaid care to an adult or child in the previous 12 months. That is 13.6% of the population. Families provide 80% of the long-term care in the US, and the need for information is great, and continues to grow, according to the Family Care Alliance.
Caregiving can have an impact on well being. According to HelpGuide.org, you may experience a range of feelings about being a caregiver, including:
Anxiety and worry – You may worry about how you will handle the additional responsibilities of caregiving and what will happen to your family member if something happens to you. You may also fear what will happen in the future as your loved one's illness continues to deteriorate.
Anger or resentment – You may feel angry or resentful toward the person you're caring for, even though you know it's irrational. Or you might be angry at the world in general, or resentful of other friends or family members who don't have your responsibilities.
Guilt – You may feel guilty for not doing more, being a "better" caregiver, having more patience, accepting your situation with more equanimity, or in the case of long-distance caregiving, not being available more often.
Grief – There are many losses that can come with caregiving (the healthy future you envisioned with your spouse or child; the goals and dreams you've had to set aside). If the person you're caring for is terminally ill, you're also dealing with that grief.
In their 2015 report, the AARP Public Policy Institute and National Alliance for Caregiving surveyed 1,248 caregivers on how they were affected by their role. The results found:
Six in 10 caregivers report having experienced at least one impact to their employment situation as a result of caregiving, such as cutting back on work hours, taking a leave of absence, quitting, turning down a promotion or receiving a warning about performance or attendance. Over half of employed caregivers work full time (56%).
One in five report the physical strain of caregiving is high. One in four rate it as moderate.
Four in 10 consider their role to be highly stressful, while an additional 25% see their stress as moderate.
One in five experience financial strain resulting from caregiving. Another one in five experience moderate financial strain.
When asked if they had a choice in taking on the responsibility to provide care for their loved one, half of caregivers self-reported they had no choice in taking on their caregiving responsibilities.
"More than 8 out of 10 (84%) caregivers state they could use more information on or help with caregiving topics. Caregivers most commonly want information about keeping their loved one safe at home (42%), managing their own stress (42%) and help about making end-of-life decisions (22%)."
Seek support from other caregivers. You are not alone!
Take care of your own health so you can be strong enough to take care of your loved one.
Accept offers of help from others and suggest specific things people can do to help you.
Learn how to communicate effectively with doctors.
Caregiving is hard work so take respite breaks often.
Watch out for

signs of depression

and don't delay getting professional help when you need it.
Be open to

new technologies

that can help you care for your loved one.
Organize medical information so it's up to date and easy to find.
Give yourself credit for doing the best you can in one of the toughest jobs there is!
There are many ways VITAL WorkLife can help support caregivers:
Counselors
Our counselors can help caregivers better deal with their stress and other impacts on their lives. Counselors can also point toward resources that may assist in a variety of ways, whether it's specialized medical providers who can assess Alzheimer's, autism spectrum disorder (ASD) or other potential disabilities, to specialized housing, to sources of respite care.
Financial & Legal Resources
Our financial and legal resources can help when employees need advice on caregiving-related issues, such as taxes, estate planning, disability and more.
Web Resources
VITAL WorkLife also offers members unlimited access to a wealth of web-based resources on the VITAL WorkLife Member Site, including articles, information and tips on caregiving.
We Can Help
Are you interested in learning more about VITAL WorkLife and we can help support your organization and employees? Get in touch with us online for more information about our robust EAP program and additional well being solutions.
Sources:
http://caregiveraction.org/national-family-caregivers-month-background
National Alliance for Caregiving and AARP (2015). Caregiving in the U.S. https://www.caregiver.org/caregiver-statistics-demographics
Family Caregiver Alliance: https://www.caregiver.org/resources-health-issue-or-condition
https://caregiveraction.org/resources/10-tips-family-caregivers
https://www.helpguide.org/articles/parenting-family/family-caregiving.htm
https://www.caregiving.org/wp-content/uploads/2015/05/2015_CaregivingintheUS_Final-Report-June-4_WEB.pdf
http://caregiveraction.org/resources/10-tips-family-caregivers