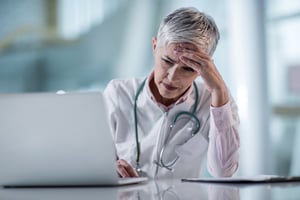 In 2017, we published the results of our fifth Physician & Advanced Practitioner Well Being Solutions Survey. There were several interesting findings, both expected and unexpected—but the key conclusion now taking shape is there's a significant gap between female and male physicians and their stress levels.
Frankly, it isn't that close.

It's a concerning development, especially considering the Association of American Medical Colleges (AAMC) found in 2017, for the first time, more women entered U.S. medical school than men. It also suggests organizations need to continue to ramp up their efforts to mitigate stress and burnout before adverse outcomes result—and before related trends become even more entrenched and complicated to solve.
What does the data data say? Why is there a gender gap?
Download the full article Women Doctors Are More Stressed Than Men below, and watch for two upcoming Insights with action steps organizations can take to improve physician well being and increase access to resources for all physicians. We'll also call out special opportunities and considerations for female physicians.