In my article "Ensure a Culture of Well Being with a Physician Well Being Audit" I review both individual leader readiness and organizational readiness to help physicians improve their emotional and psychological well being. I ask:
"Do you have adequate resources to help people who are struggling with mental or emotional health issues, do your people know about them and are they easy to access?"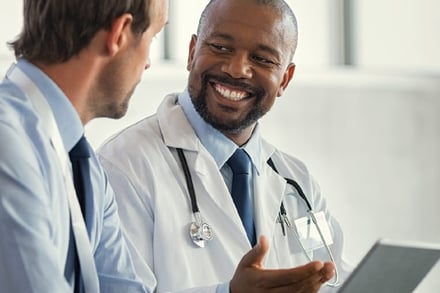 People who are willing to take advantage of well being resources, to meet with a coach and take time to learn insights and skills are much more likely to be in a place of well being than those who don't.
From 4 to 9: The Case of Dr. B.
One of the most successful interventions toward improving physician morale and short-circuiting burnout is peer coaching. For example, the case of Dr. B., a physician in a specialty practice who had to confront his challenging experience with a patient's surgical complication.
Adverse events are among the most stressful and demoralizing experiences in a physician's career. They're inevitable, but they can take a severe toll if the physician doesn't effectively address the holistic impact of the event.
Dr. B. did better. His organization offered peer coaching and he sought it out with a physician peer coach outside his own workplace. He told his certified peer coach that the experience had damaged his confidence and his well being, which he rated at 4 on a scale of 1 to 10, with 1 being the lowest and 10 the highest.
He talked through the trauma with his peer coach, who had also experienced an adverse event. He was relieved to be able to unburden himself to, as he stated, "someone who could get it." The coach asked questions and offered perspectives that helped him regain confidence and shift to a more positive mindset. "He asked, 'What gives you joy about your job?' 'What makes you feel confident—like I've got this, I'm good at this?'" recalled Dr. B.
At the end of the coaching sessions Dr. B. felt he had made major progress toward recovery. "My coach helped me to go through a normal grief/healing process," he said, "and to get unstuck."
And, he self-rated his overall well being had improved from a 4 to 9 out of 10 through the course of his coaching. Learn more about peer coaching and physician well being here.