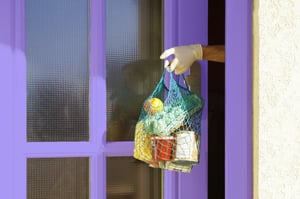 This past year took our "normal" and flipped it upside down. Various changes in human behavior occurred; we saw these changes in action through our WorkLife Concierge requests from 2020. A couple prominent examples of these changes being restaurant reservations transitioned to more delivery and takeout requests; travel services and event planning turned to requests for travel reimbursements. Below dives deeper into our findings, providing examples of how clinicians and their families used WorkLife Concierge during the pandemic.
How WorkLife Concierge Can Help During a Pandemic
Here are just a few excellent examples of how WorkLife Concierge was used during the COVID-19 pandemic:
Assistance locating COVID-19 testing sites and services

Home disinfecting and cleaning services

Grocery and food delivery services

Travel/get away advisory service – informing what is required to travel to specific destinations and locations

Finding a personal chef to help prepare meals

Supporting families balance children in school and working from home

Childcare and elder care services

In home wellness services, such as massage, yoga lessons, in-home personal training

In home school set up – providing creative ways to help keep children engaged by using simple equipment; children tutoring

Research for fun classes to take online – such as learning to cook, paint, online master classes

Medication delivery services

In-home or mobile pet grooming services – includes pet supply delivery and/or pet transportation to appointments
If any of these examples spark something in you, reach out to WorkLife Concierge for assistance!
"I'd like to hire a personal chef who could come to my home on a weekly basis and meal prep food and snacks. Would it be possible to reach out to a few local chefs to see what they might charge for this service and if they're still operating in the era of COVID? Thank you so much!"
"Looking for a getaway for a little while. Would like to find a place to stay in the Northern California area. Can you help me with a place to stay, things to do and places to go there? Really need a change of pace from care giving and COVID-19."
Top 10 WorkLife Concierge Requests in 2020
In 2020, the number of WorkLife Concierge requests doubled from that of 2019. Additionally, COVID-19 triggered many new types of requests. The tables below show the differences in types of service requests, comparing 2019 to 2020: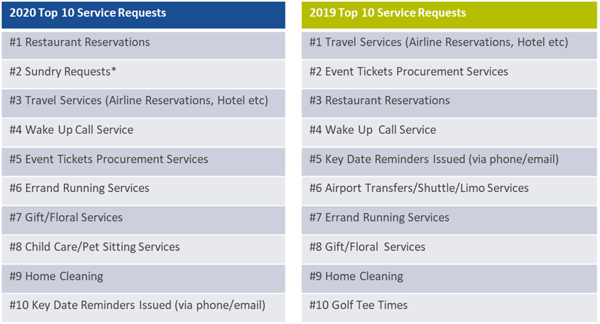 *Note: Sundry requests are requests that don't fit neatly into their pre-determined categories; this may include requests such as inquiring about weather, driving directions, stock quotes and updates, etc.
We Can Help
As part of your Well Being Resources, you have access to WorkLife Concierge – an all-purpose, virtual assistant offering first-class service to help maximize the limited time of clinicians and their families. To access, call 877.731.3949 or connect through your VITAL WorkLife App.