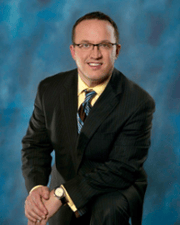 In support of National Physician Suicide Awareness Day on September 17th, and the entire month of September as Suicide Awareness and Prevention Month, we are sharing a real story of physician suicide.
In late 2019, Dr. Matthew Gall tragically died by suicide. In the wake of his death, Matthew's family was shattered and heartbroken, left to process an unthinkable loss. In this webinar, Matthew's wife, Betsy Gall, will share Matthew's story and her journey through the grief and coping process. She will also share some of the barriers and stigma she believes prevented her husband from seeking help.
This webinar is sure to be powerful, emotional and eye-opening experience for all attendees about the intense stressors and stigma many physicians, including Dr. Matthew Gall, experience in medicine today.
By sharing her husband and family's story, Betsy wants to raise awareness about the growing issue of physician suicide, in hopes of preventing other families from experiencing such a tragic loss. We hope you'll join us!
---
Now Available:

Webinar: Physician Suicide: One Family's Story of Unthinkable Loss, Pain, Awareness and Growth
---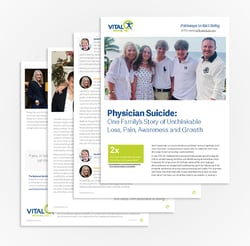 You can also read Betsy Gall's story, and find additional resources, HERE.
VITAL WorkLife offers a unique Physician Well Being Resources solution built with coaching and counseling to help address and guide physicians and their families through any challenging situation. To learn more about our solutions to support physician well being, contact us today.
If you, or someone you know, is having thoughts of suicide or is in crisis, call the National Suicide Prevention Lifeline at 800.273.8255. Their Lifeline Chat is also available 24/7.