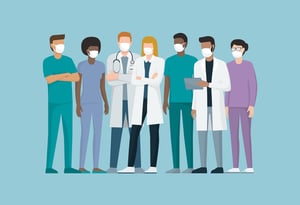 We hear you and we understand the struggles you and your organization are facing daily with the fight against COVID-19. That is why on April 22nd from 12 – 1 pm CDT, we are hosting a free webinar to address these very real challenges you and your organization are facing.
This webinar is meant for healthcare leaders who are faced with guiding their organization through this pandemic, and the aftermath of the pandemic. Join Paul DeChant, MD, MBA, FAAFP, Liz Ferron, MSW, LICSW, and Sarah Prom, MA, LPC, ODCP, from VITAL WorkLife, as they co-present on pre- and post-pandemic stressors that lead to burnout and recommendations for leadership to help improve your organization during this difficult time and long after the pandemic is over.
Objectives for this webinar are:
Discuss the challenges of leading an organization during a time that negatively effects the mental health of your staff members
Review the difference between pre- and post-pandemic stressors that lead to burnout and what an organization can do today to demonstrate leadership
Address what you can do to support staff members and what resources you can leverage to help both you and your employees cope better during this crisis
The webinar is now available on demand:
---
We Can Help
Interested in learning more about VITAL WorkLife? Contact us online or call 877.731.3949 to learn more about our unique solutions we offer healthcare organizations across the nation.
Learn more about Paul DeChant, MD, MBA, FAAFP by visiting his website at www.PaulDeChantMD.com