Digital literacy is becoming a core part of the healthcare worker's role in the digital age. Digital literacy means the ability to effectively navigate, evaluate and communicate information using digital technologies. It enables healthcare workers to provide quality care, work efficiently and keep up with the latest advancements in healthcare technology.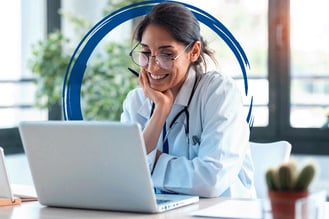 Digital literacy for healthcare workers is undeniably a challenge for those who may not be "digital natives." To better understand the ever-changing digital health landscape, it's essential for healthcare organizations and their employees understand following topics:
1. Electronic Health Records (EHRs)
Understanding how to operate EHRs is critical for healthcare workers. It allows them to access patient information quickly, collaborate with other healthcare providers and make informed care decisions. In a study conducted by Ali et al. (2020), healthcare providers' digital literacy was found to be positively associated with their ability to use EHRs effectively, ultimately leading to improved patient outcomes. Although, studies have shown almost 95% of healthcare providers report their ability to use EHR could be improved. To better optimize usage of EHRs, organizations and their employees can seek out training and professional development opportunities to gain a deeper understanding of the tools central to their role.
2. Cybersecurity
Healthcare workers need to be aware of cybersecurity threats and how to protect patient information from cyber-attacks. This includes knowing how to identify phishing scams, creating strong passwords and using secure networks when accessing patient information. A study by He et al. (2021), found that staff who have a lack of digital literacy make organizations more prone to cybersecurity attacks. Healthcare workers with a high level of digital literacy are better equipped to understand and address cybersecurity risks, leading to better protection of patient data.
3. Adapting to New Technologies
Healthcare is constantly and rapidly evolving as an industry. New technologies and digital tools are being developed all the time to increase productivity and efficiency. To adapt to the ever-changing landscape, Healthcare organization need to help workers adjust to these changes and learn new technologies quickly. This can help to improve patient care, streamline processes, and reduce errors. Healthcare workers who possess digital literacy skills are more likely to adopt new technologies and embrace change, ultimately leading to improved patient outcomes.
Recommendations:
Audit you

r

staff and identify areas for training.

Quick win

s

for the organization

can come with cybersecurity training

and will help everyone

.

While other longer-term plans can be set in place for new technologies, make plans for those who must catch up on their skills as well as for continuous training on software platforms essential to your organization's operations.

Additionally, you may find that an employee may just need help with the basics—and that's okay! There are several freely available resources online, such as:
By focusing and building strategies on the key aspects of digital literacy, healthcare leaders and their employees can improve their digital literacy skills. Sharpening digital skills across your organization can help you and your employees provide better care for your patients, increase efficiency, reduce stress and burnout and meet the demands of the rapidly changing digital landscape.
We Can Help
If you want to improve your digital literacy skills, we can help. Coaching and counseling can be great resources for professional development if you are struggling to keep up at work.
For Physician Well-Being Resources members, get started with charting coaching, physician peer coaching or counseling by calling us at 877.731.3949, through the VITAL WorkLife App or contact us online.
For EAP members, get started with nurse peer coaching or counseling by contacting us at 800.383.1908, through the VITAL WorkLife App or contact us online.