Have you seen this happen?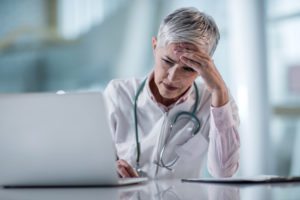 A physician had a colleague who decided to leave medicine. She was asked to pick up some of the slack for a short while. But time stretched on because hiring someone into the physician's town wasn't appealing, especially with the physician shortage. Then a new Electronic Health Records (EHR) system was implemented with more "required" paperwork—but the organization didn't budge on the hours needed for patient care. It wasn't long before this physician became cynical and irritable. She wasn't eating or sleeping well and home life had deteriorated. Finally, a new physician was hired but it was too late; our physician had already scheduled a meeting to hand in her resignation.
Have you seen this happen? Is it happening to those around you?
Physician burnout is a well documented crisis and it is a circle of pain with no end in sight. In fact, VITAL WorkLife's most recent study found an alarming rate of physician burnout due to stress, up to 85%.
The Vicious Cycle Causing Burnout
One example of this circle of pain looks like the following:
With the need to maintain a competitive edge, meet government regulations and complete administrative tasks, physicians and providers have increased workloads and higher stress, resulting in higher levels of burnout.
The turnover rate is higher for physicians who become burned out, leading to increased costs for healthcare organizations, known to spend between $500k and $1M to replace one physician, not counting the loss of productivity during the transition.
With a physician shortage, it is be difficult to fill positions—causing salaries to increase (33% in the last 7 years)3. This is particularly true when recruiters have more difficulty convincing physicians to move to rural areas. Rural organizations often go for longer periods of time being short staffed, and when compounded by higher salaries4 this makes losing a physician to burnout extremely costly, both monetarily and by raising stress levels among the existing care team.
Regardless of where an organization is located, being short staffed means increased workloads for remaining physicians or providers who themselves may start to exhibit higher levels stress and signs of burnout. Unfortunately, the cycle of higher stress and burnout continues to spiral with no end in sight.
So what's to be done?
There is no simple solution to solve this crisis. Rather than addressing each issue by itself, we recommend a holistic approach to surround physicians and their organizations with proactive resources to help before, during and after symptoms of burnout are exhibited.
A Holistic Approach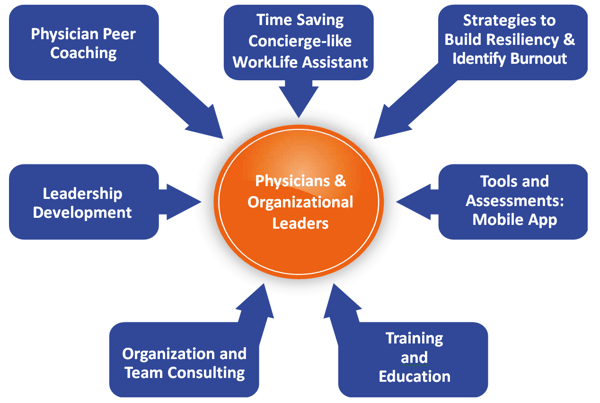 This practical approach is proactive in nature and is designed to address the needs of physicians and providers before they reach burnout levels. By organizations offering a wide variety of coaching, education, consulting, time saving tools and other resources, both physicians and leaders will be able to better alleviate the levels of stress leading to burnout we are seeing in healthcare today. While this approach addresses the non-systems factors of stress, organizations should also be proactive in countering the workflow and cultural issues accounting for 80% of stress levels.
We Can Help
Learn more about The High Cost of Physician Burnout in Healthcare Organizations. Contact us online to learn more about our Physician Well Being Resources designed specifically to enhance the well being of physicians and providers.
Sources:
VITAL WorkLife, Cejka Search (2017) 2017 Physician & Advanced Practitioner Well Being Solutions Survey Report. Download the full report here.
Noseworthy, J. (2017, March) Physician Burnout Is A Public Health Crisis: A Message To Our Fellow Health Care CEOs, Health Affairs. Retrieved from https://www.healthaffairs.org/
Kane, L. (2018) Medscape Physician Compensation Report 2018. Retrieved from https://www.medscape.com4