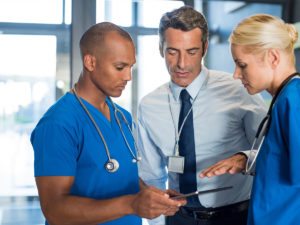 When physicians consider getting assistance for lowering stress and enhancing well being, they often perceive a number of barriers making access to help more difficult, according to Robert Leschke, MD, an emergency department physician and physician peer coach.
The first step an organization can take to reduce barriers to well being solutions offered within their organization is to recognize the barriers practitioners face. According to the 2017 Physician and Advanced Practitioner Well Being Solutions Survey by VITAL WorkLife and Cejka Search, the availability of well being solutions is limited in organizations and what is offered isn't necessarily what physicians value.
Barriers to Well Being
Particularly notable barriers to accessing well being solutions are pervasive, with 87.6 percent of physicians and advanced practitioners reporting at least one barrier and more than half reporting six or more barriers. These include:
Time to use whatever well being services are available: 78.8%

Productivity demands: 74.4%

Access to solutions: 71.6%

Unresponsive management or organization: 66.2%

Stigma of asking for help: 60.8%

Awareness of what works: 55.8%

Awareness of availability: 53.4%

Concerns about confidentiality: 52.4%

Stigma of using services: 52%

Cost to use what is available: 50.6%
Of these, time to use what is available was the most prevalent, with almost 80% of physician and advanced practitioner respondents citing this barrier to well being. It's a concern because if the vast majority of physicians feel they don't have time to use the services available, the other barriers don't really matter.
The Responsibility of Healthcare Leaders
Putting well being solutions into place is not enough. Healthcare leaders need to address these barriers for well being solutions to help physicians and advanced practitioners manage their stress levels.
Also, barriers require a range of strategies for addressing them. For example, "awareness of what is available" might prompt better internal communication. For "unresponsive leadership," an organization might consider culture changes to reduce or eliminate the barrier.
"Healthcare leaders need to make this issue a priority and be responsive to what physicians need for well being," he says. "If not, they'll face significant challenges when it comes to morale, physician turnover, operating costs and other ripple effects."
Download our latest article on Balancing Caregiving and Self-Care to learn more and

contact us

today.