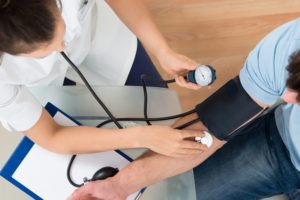 High Blood Pressure & Hypertension
According to the National Heart, Lung and Blood Institute, one in three American adults has high blood pressure or hypertension--but many of them are unaware of it. Often called "the silent killer," hypertension has no symptoms or warning signs but can lead to heart attacks and strokes. It's normal for blood pressure to go up and down through the day, but when your blood pressure is consistently high, it can damage everything from your arteries and heart to your kidneys and eyes. The risk of cardiovascular disease increases progressively the higher your blood pressure goes.
Easy to Diagnose and Treat
If you're diagnosed with prehypertension (higher than 120/80 but under 130/89) or hypertension (higher than 140/90), you need to take immediate action to protect your health. High blood pressure can be prevented-- and lowered--by following the Dietary Approaches to Stop Hypertension (DASH) eating plan, which focuses on fruits, vegetables, whole grains and other foods that are heart healthy and low in salt and sodium. Exercising between 30 and 60 minutes daily has also proven helpful in lowering blood pressure. For many, lifestyle changes in diet and exercise are enough to bring their blood pressure under control. For others, a combination of medication and lifestyle changes is required-- and some people require more than one medication.
We Can Help
Call VITAL WorkLife at 800.383.1908 any time, day or night, for the support you and your family need. We can discuss ways for you to build healthy habits and manage stress.
For more information
For more information about our comprehensive suite of well being solutions, contact us online.