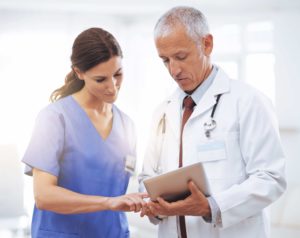 Relationships at work are important for your job satisfaction, productivity and even career development. Numerous studies have linked care team relationships and communication between physicians, providers and nurses with the quality of patient care and safety. However, a Daily Briefing survey found the state of doctor-nurse relationships is less than stellar.
Just OK: There's still a mixture of collaboration and conflict – 66%
Poor: There are too many unprofessional clashes – 31%
Strong: There's finally a climate of mutual respect – 3%
What opportunities exist for you to strengthen your patient care team relationships?
In a recent Medscape survey, nurses identified a need for more responsibility and greater respect. Respondent comments in the survey included:
"Nurses are not respected for their vast knowledge and education, but rather made to work like robots while short of staff and lacking tools to provide the best care possible"
"What I would love to see is respect from providers and consequences if disrespect occurs. As far as we've come, we have such a ways to go."
When asked, however, most physicians and providers say they respect and appreciate the nursing staff in their practices and value the contributions they make. So, where is the disconnect?
It is a well-known fact, all professional groups in healthcare report experiencing an increase in workloads and amplified stress and burnout This environment doesn't leave time for individuals to get to know one another and to build trust. Worse yet, it only allows the minimal amount of interaction to "get the job done" which often leads to terse, clipped communication. This is fertile ground for misunderstandings and misperceptions of intent. Here are some ideas to help improve relationships.
Go the extra mile to demonstrate respect and consideration.

Even though there have been significant efforts to improve communication and teamwork in healthcare, there is a long history of nurses having experienced "bullying" behaviors from their own care team members and not having been supported by their leadership when attempting to address their concerns. Experiencing bullying in the past can lead someone to be more guarded and can diminish trust in future work relationships

Check in with your nurses regularly to assess their needs and interests in regards to working on your team.

Most nurses still perceive there to be a power differential at work and this can influence their willingness to be as assertive with you as you are with them. Silence does not necessarily mean agreement.

Develop and use positive, respectful communication skills and emotional intelligence for motivating your team members.

Whether or not you are in a formal leadership role you can still leverage these skills to foster a cooperative and productive environment. You may find these are not skills you developed in medical school or in your practice. Peer coaching through VITAL WorkLife can be a great source of assistance in this area.

Don't make assumptions.

Many physicians perceive themselves to have a greater investment in patient outcomes than the rest of their care team, while they themselves are often criticized for only concerning themselves with the clinical elements of care. It's important not to make negative assumptions about commitment or intent. Check your assumptions by asking questions. You are likely to find more in common than you assumed and can build healthier interactions on that shared common ground.
Encourage input. In these challenging times in healthcare with higher acuity, decreased patient facing time and increased competition – you need all hands on deck when it comes to accuracy and safety in practice. Encourage members of your care team to ask questions, make comments or offer suggestions. If you discourage input, even when you perceive it to be less useful in a particular situation, you may not get it when you need it.

Use team huddles and debriefs.

Make a point to build in time for information exchange with your whole care team, such as team huddles and debriefs. Whether you are discussing an entire day or one case, a huddle gives you the opportunity to bring forward and discuss everyone's needs and concerns related to patient care. With a debrief you can talk about what went well (always good for relationship building and offers positive reinforcement for practices you'd like to see continue) and also what you wish could have gone differently. Here is an excellent 4-minute video of a sample huddle:


Consider a Nurse-Physician Council. Healthcare Business & Technology encourages the best practice of establishing a Nurse/Physician Council, which they describe as, "a group of nurse and physician leaders, who meet with a specific purpose — to improve and optimize nurse/physician relationships and communication." Work with your leadership team to determine if this could be an option at your organization.
Relationship building takes effort and needs to be intentional. It is often not second nature and many find they can benefit from coaching and counseling to make more rewarding and effective connections with people at work.
We Can Help
For assistance in strengthening communication with your nurses, care teams or leadership, call to schedule an appointment with a peer coach or counselor from VITAL WorkLife who specialize in this area. Most sessions occur telephonically or through a video platform like zoom.
Call VITAL WorkLife at 877.731.3949 or through the VITAL WorkLife App any time, day or night, for the support you and your family need.