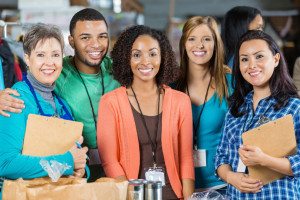 Companies with a strong commitment to social responsibility have better morale, higher efficiency, a stronger public image and better employee loyalty, according to a Society for Human Resources Management study featured by Inc.com. What organization would turn down those benefits?
In addition, corporate social responsibility is good for business. Every organization I have worked for with a mindful focus on such programs has benefited with additional sources of employees (supporting a local university and technical college), access to research (investing in technical equipment) or more engaged employees (by offering ways to get involved in organizational programs).
"Despite their good intentions, today's businesses are missing an opportunity to integrate
social responsibility and day-to-day business objectives — to do good and make money simultaneously."
— Cindy Gallop
Does your organization have a corporate social responsibility program?
If not, here are 6 tips to keep in mind to help you launch a successful corporate social responsibility initiative.
1. Choose a cause that is authentic to your brand
This should be a first priority. By choosing a cause for which you will make a long-term commitment, your initiative will have more meaning, resonance and impact.
2. Engage customers
Get your clients and customers involved in your cause. Customers want and expect brands to be involved on social issues. In a recent report by The Boston Consulting Group, nearly half of Millennials reported they "try to use brands of companies that are active in supporting social causes."
3. Motivate employees
Don't hesitate to encourage and promote employee participation in your charitable initiative. Research indicates when employees participate in programs they care about, their relationship with the company is strengthened and they re-dedicate themselves to their own work roles.
4. Partner with key charitable organizations
It's important to establish a strong partnership with a leading nonprofit organization. Such partnerships allow you to leverage their expertise on the issues to create real and lasting change.
5. Connect with a high-profile spokesperson
Whether you have access to a mega-star or more local influencers, partnering with a spokesperson who shares a genuine interest and belief in your cause will lend credibility, give your cause an identifiable 'face' and increase the reach of your initiatives.
6. Make it social
Take your cause to social media to get the word out to an even bigger audience. To incentivize participation, you could even tie a specific donation dollar amount to each social media mention at the launch and at events throughout the year. Campaign ambassadors can also help amplify your message by sharing it on their social channels.
Visit our About Us page to learn more about the VITAL WorkLife program and check out an article from one of our employees HERE.
We Can Help
For additional help in your leadership role, your Employee Assistance Program (EAP) from VITAL WorkLife offers unlimited management consultations to help managers and supervisors effectively deal with workplace challenges, including employee engagement, morale and efficiency. Supportive, confidential counseling and coaching are available to help you, your employees and their families cope with life's challenges, whether personal or in the workplace.
Call 800.383.1908 to learn more or to speak with one of our representatives. We're available anytime, day or night. Or access resources through your VITAL WorkLife App.
Source: Adapted from Inc.com, Downloaded 12/09/2015.