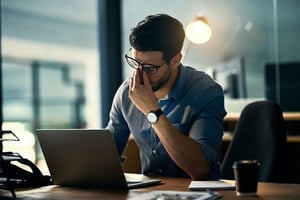 The recession is officially over—so, stress levels should be going down. Right?
According to one of the most definitive—and ongoing—studies on the topic, the annual Stress in America survey, stress levels in 2012 fell to an average 4.9 from 5.2 in 2011 on a ten-point scale, which is certainly movement in the right direction. However, it's still significantly higher than the 3.6 point level respondents felt was a healthy stress level. Moreover, 35% of respondents felt their stress levels were higher than the previous year, and 20% scored that they were extremely stressed (8, 9 or 10).
The causes of their stress? Money led at 69%, slightly ahead of work (65%), the economy (61%), family responsibilities (57%), relationships (56%), family health problems (52%) and personal health concerns (51%). It's no wonder that 42% of respondents report lying awake at night as a result of the stress they feel. And, only 37% say they are doing a very good or excellent job of managing their stress.
So, it's no surprise to us that stress and its companion emotion, anxiety, lead as the primary presenting problem when employees call VITAL WorkLife seeking help. Given our high satisfaction scores, we're making a difference in helping them cope with the stress in their lives. However, what about the many other employees and family members who, based on the statistics, could benefit from some assistance?
Battling Stress: Letting the EAP Provide the Tools
We know that there's a lot more that can be done to help employees who are struggling to cope with the stressors in their lives, and that's why we're making it the theme of this month's promotional materials. (English and Spanish flyers and posters are linked to this newsletter—just click on the buttons to the left.) For those plans which get employee newsletters, the topic for this month is also about stress—and how to deal with it effectively.
Since the holidays tend to increase stress for many people, this is an opportune time to let your employees know that there's an easy to access, confidential and free way to get help with their EAP benefit.
It starts with a phone call to us at 800.383.1908 where callers can speak with a qualified master's- or doctorate-level counselor immediately, or make an appointment to meet face to face at a convenient time and location. Our counselors can help them identify the causes of their stress, and then work on a plan to address both the stressors and the stress, itself.
Our website also provides great resources for employees who are looking for ways to cope with stress, in general, and also to help with many of the stressors they are struggling with—all of the areas that the Stress in America survey identified, and more. It's available 24/7/365 and is just a quick login away.
And, there are other ways that we can help. We can provide training to workgroups and entire organizations, by webinar or onsite. Our popular seminar, "Work/Life Balance: Reducing Stress and Developing Resiliency" has helped hundreds of employees to understand what's causing them to feel stressed, and then learn ways to deal effectively with it—and become better equipped to handle future stressors. To learn more about our training, please contact your VITAL WorkLife account manager.