Anxiety
Anxiety is a normal reaction to stress—and is sometimes even helpful. For example, a child who's a little anxious about an upcoming test is more likely to study than one who doesn't care.
"It's normal for kids to be a little anxious about going into new situations or meeting new people," says Jody Bertram, senior EAP consultant for VITAL WorkLife. "But when children exhibit sudden irrational dread of everyday situations or become terrified by things that didn't bother them in the past, it may be time to get them some help."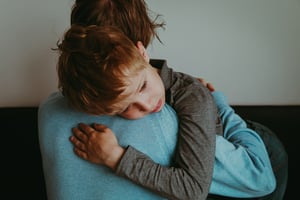 Repeated school absences or an inability to finish school if not treated early, anxiety disorders can lead to:
Impaired relations with peers
Low self-esteem
Alcohol or other drug use
Problems adjusting to work situations
Anxiety disorders in adulthood
Studies on treating childhood anxiety disorders show that cognitive therapy, given with or without medication, can effectively treat anxiety disorders in children. One small study even found that a behavioral therapy designed to treat social phobia in children was more effective than an antidepressant medication.
A Failure in Primary Care
Unfortunately, too many children are not getting the help they need. According to a large national survey conducted for the National Institute of Mental Health, roughly 8 percent of teens ages 13-18 have an anxiety disorder—with symptoms commonly emerging as early as age 6. However, of these teens, only 18 percent received mental health care.
Part of the reason is that few primary care physicians consider themselves well trained in the area of pediatric or adolescent mental health, or feel they have time to address mental health issues during a standard patient visit.
"It can be awkward discussing the problem while the child or teen is in the room," notes Bertram.
Many parents don't feel comfortable discussing their child's symptoms with their primary care physicians, while others have tried and haven't gotten the information they need. Before scheduling an appointment with a psychiatrist, most would like one simple question answered: "Is this normal?"
Thanks to your Employee Assistance Program (EAP) solution, help is as close as your phone.
Addressing Your Child's Anxieties:
HOW YOUR EAP BENEFIT CAN HELP

When you have anxiety about your child's anxieties, VITAL WorkLife is here to help. Your EAP benefit includes free and confidential professional support services from VITAL WorkLife—24 hours a day, 365 days per year—to help you and your family members figure out what's going on with your child and what you can do about it.
"It's not a foregone conclusion that because your child has anxiety, he or she needs to see a doctor or get counseling," notes Bertram. "We've helped many parents create plans for helping their children cope with stressful situations and manage their anxiety in a single phone call."
In cases where symptoms don't improve or are more severe from the outset, your EAP counselor can help you sort through the full range of treatment options, including:
Cognitive-behavioral treatment, in which young people learn to deal with fears by modifying the ways they think and behave
Relaxation techniques or biofeedback (to control stress and muscle tension)
Family and/or individual counseling
Anti-anxiety medications
"We'll work with you to develop a plan that makes sense for your child and your family," notes Bertram. "If medication or medical help is needed and you're not comfortable approaching your primary care physician, we can help you with that process."
Dealing with Anxiety and Phobias:
HELPFUL ONLINE RESOURCES
On the VITAL WorkLife Member Site, there are helpful articles and links to resources to learn more about children's anxieties and how to cope with them, including:
Anxiety Disorders in Children and Adolescents
How to Get Help for Anxiety Disorders
Antidepressant Medications for Children and Adolescents
Fighting Phobias: Things That Go Bump in the Mind
Children and Stress: Are You Pushing Your Child Too Hard?
Contact VITAL WorkLife at 800.383.1908 or access resources through your VITAL WorkLife App