The two main types of advanced practitioners—Physician Assistants (PAs) and Advanced Practice Registered Nurses (APRNs)—have become crucial to the practice of medicine today, and today's healthcare organizations. The rapid growth of these professions over the last half-century or so, and their extension into more and more areas of care, means supporting the well being of these practitioners has become a priority for organizations.
A Sixties Crisis
The PA profession emerged out of the needs of family practice in rural and urban areas in the mid 1960s. With the passage of Medicare and Medicaid in 1965, thousands of new patients, including the elderly and the poor, could afford care—but the influx resulted in a shortage of primary care physicians. Trained medical corpsmen returning from the Vietnam war formed the core of a new profession. Accreditation standards, a national certification process, standardized exams, and the development of continuing medical education requirements soon followed.1
Today there are about 119,000 Physician Assistants in the United States.2 While PAs still serve in family medicine, a 2016 research report commissioned by the National Commission on Certification of Physician Assistants (NCCPA) found by that year, a large majority (70 percent) of PAs were actually working in non-primary care specialties.
Growing Specialization
The Nurse Practitioner field was also a response to the physician shortage of the mid-1960s.
The first training curriculum for NPs, a certificate program, was established in 1965 at the University of Colorado. It became a master's degree program in the early 1970s. At first, NPs mainly worked in pediatrics, but many new NP specialties were created in the 1970s.
Today, NP specialty fields include acute care, gerontology, emergency medicine, neonatal care, pediatrics, psychiatry, women's health, anesthesiology and midwifery.3
"The role of NPs has become even more important as additional patients are covered under the Affordable Care Act and more states grant NPs full practice authority," Hannah Dellabella writes in Clinical Advisor. "The NP profession is anticipated to continue its growth, with 244,000 NPs expected to be practicing by 2025."4
Given the growth of these professions, and their participation in more and more areas of healthcare, it makes sense for organizations to pay as much attention to their well being as they do with their physicians.
To learn more about the needs of your advanced practitioners and how you can meet them, see our article, "How to Care for Your Advanced Practitioners."
---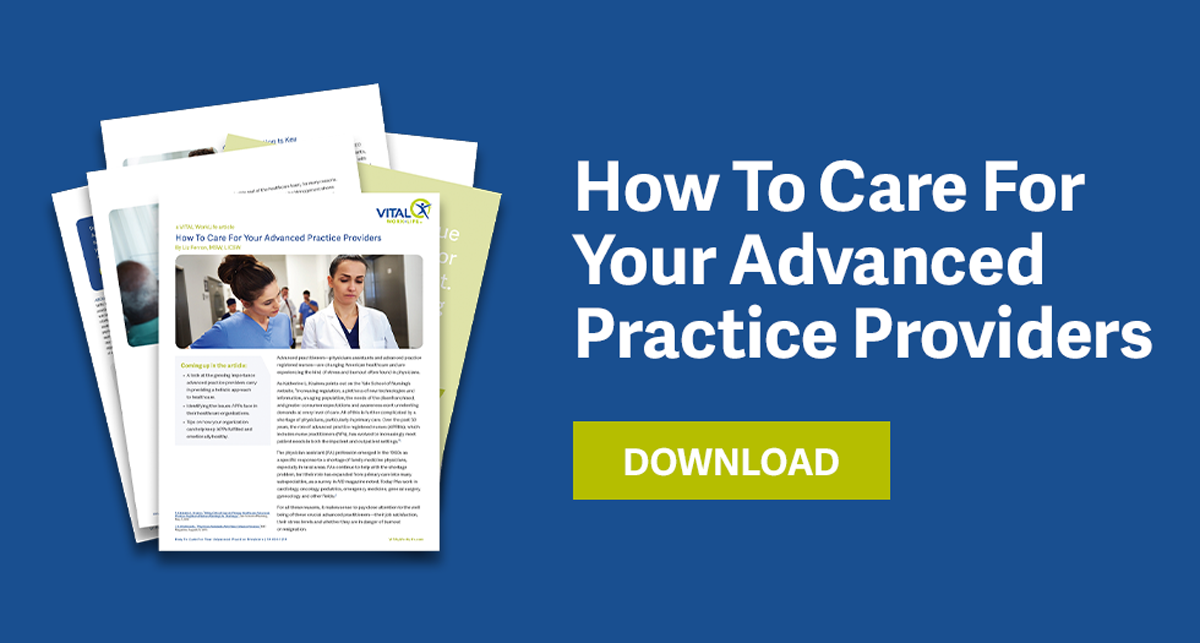 1 "History of the PA Profession," American Academy of Physician Assistants
2 US Department of Labor, Bureau of Labor Statistics, Job Outlook Handbook, "Physician Assistants"
*Hannah Dellabella, "50 Years of the Nurse Practitioner Profession," Clinical Advisor, November 10, 2015.