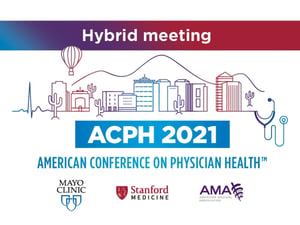 This years' hybrid American Conference for Physician Health 2021 (ACPH) gave me hope that intentional changes are being made to support physician mental health and well being. While the COVID-19 pandemic exasperated an already serious problem in healthcare, there were some silver linings.
Silver Lining #1
Legislation is advancing at both the state and federal level to remove questions about mental health by medical licensure boards. The goal is to reduce or diminish the fear of losing your medical license so those physicians who need help will seek help. Then tragic deaths like that of Dr. Loana Breen and Dr. Mathew Gall could have been avoided if licensure safety precautions like this were in place. The state of Virginia has led the way on this front, passing the SafeHaven legislation in April 2020.
Silver Lining #2
Physician mental health (also known as the parallel pandemic) is now recognized as a national problem by mainstream media, teaching institutions, organizational leadership, professional associations and by the federal government. Activism and collaboration to support change (both culturally and professionally) are happening in new and exciting ways. The National Academy of Medicine (NAM) through their Action Collaborative on Clinician Well-Being and Resilience and the new All In Well Being First for Healthcare are bringing awareness, cross-industry coordination and grants to support physician health and well being.
Silver Lining #3
Physicians have developed coping skills throughout the different waves of the pandemic. Research presented showed that burnout levels from the winter 2020-2021 COVID wave had less negative impact on physicians than the initial wave in the spring of 2020. This doesn't diminish the impact on clinicians but does show they can adapt and grow through adversity. Researchers suggest that physicians have become more resilient and explained this improvement as Post-traumatic Growth (PTG).
There Is Still Work to Do
While some healthcare systems are progressing and evolving, others are just starting their well being journey. Two sessions at ACPH focused on Chief Wellness Officers (CWO). The first was an informational session on what is takes to hold this position and what is required to be successful. Not all organizations have assigned resources or headcount to this critical function nor is there a career path for those who desire to follow this calling.
The second session was a plenary panel of CWO's who highlighted how organizations prioritized physician well being during the pandemic and beyond. The panelists discussed how they made progress in this area as well as what it takes to succeed – specifically needing both culture and strategy to be aligned. If you have a grand strategy but the culture is not aligned, then you won't be successful. In the words of Jonathan Ripp, MD, MPH, of Mount Sinai Hospital in New York:
"Culture Eats Strategy for Lunch."
Finally, Tait Shanafelt, MD, discussed the future of physician well being and gave us all a look at where we've been. He and others throughout the conference highlighted that many in this cohort have moved beyond the Triple Aim in healthcare and have embraced the concept of the Quadruple Aim. Dr Shanafelt's vision is that the future, with the Quadruple Aim, will evolve to what he highlighted as "Physician Well Being 2.0."
We Can Help
If you are interested in discussing more about what we learned at ACPH or would like to discuss our solutions to support physician well being, contact us here.