At the recent Coalition for Physician Well-Being's Joy & Wholeness Summit I had the opportunity to meet with a wide variety of leaders within the physician well being space. Attendees from across the nation shared a wealth of knowledge, all aimed to enhance physician well being and promote burnout prevention strategies.
Although there is plenty of awareness, physician well being is understandably an extensive and long-term investment. No matter where you are in your well being journey, it's critically important to understand and demonstrate the ROI on bringing well being resources within your organization.
Client Highlight: MercyOne
While I learned a lot about prioritizing physician well being, and met many fantastic thought leaders, the highlight of the event was in the poster-board section of the conference. The team from MercyOne, Aneesa Afroze, MD, Lisa Laurent, MD, and Hijinio Carreon, DO created a presentation illustrating the effectiveness of their strong well being program – which is supported by VITAL WorkLife.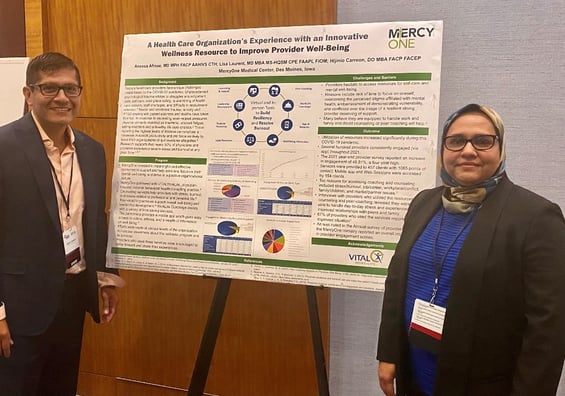 A Health Care Organization's Experience with an Innovative Wellness Resource to Improve Provider Well-Being by Aneesa Afroze, MD MPH FACP, AAHIVS CTH; Lisa Laurent MD MBA MS-HQSM CPE FAAPL FIOM; and Hijinio Carreon DO MBA FACP FACEP.
Their presentation, highlighting their partnership with VITAL WorkLife, outlined their success metrics and suggests that when an organization invests in meaningful well being resources, individual lives will improve, and a positive organizational culture will blossom.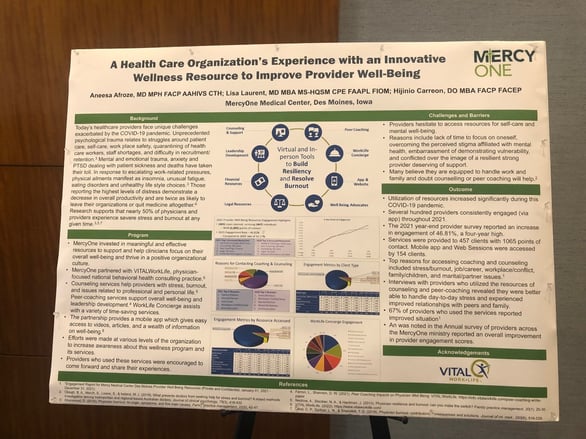 Key findings include:
The COVID-19 pandemic led to increased utilization of well being resources.

Several hundred providers engaged in the program in 2021 and received support

MercyOne's 2021 year-end survey reported 46.81% engagement with the resources in the program.

Top reasons for accessing coaching and counseling:

Stress/burnout

Job/career

Workplace/conflict

Family/children

Marital/partner issues.
67% of providers utilizing our solutions reported an improved situation.
With these findings in mind, they recommend a long-term commitment toward physician well being.
Summary
We are grateful and privileged to support MercyOne throughout their well being journey. The research and best practices that were shared at the conference continues to re-energize and motivate not only myself, but hopefully the entire physician well being community.
My time at the Joy & Wholeness Summit consistently reminded me that physician well being must be at the top of mind throughout the healthcare industry. My key takeaways include:
There is no time like the present

for visionary leaders to embrace the problem and to take action – strong, influential leaders will be critical to success,

The stigma associated with seeking support among the healthcare community remains a prevalent and the legislative efforts underway to offer confidential safeguards and protections is helping to reduce barriers, and

There remains much work to be done in ALL professional domains of the Stanford Model – Culture of Wellness, Efficiency of Practice AND Personal Resilience. P

romoting professional fulfillment and mitigating burnout requires

strong leadership and

organization

al

-wide change

s
VITAL WorkLife is looking forward to attending the conference for years to come. It serves as a valuable space and community for individuals focused on preventing physician burnout, improving the lives of physicians as well as the communities we serve.
We Can Help
We are always committed to providing confidential, discreet solutions designed to reduce stress and burnout, and support the work/life integration of physicians. VITAL WorkLife is also here to support you in whatever stressors may be impacting you at home or work. To learn more about our resources, contact us at 800.383.1908 or through the VITAL WorkLife website.