The "fresh start effect" refers to the human tendency to take action towards a goal after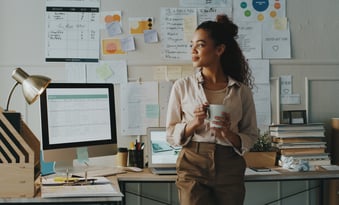 landmarks that represent new beginnings.1 When used intentionally, the fresh start effect is a helpful tool to stop procrastinating, increase motivation, and kickstart your goals–and it's one reason New Year's Resolutions are so common.
New Year's is the pinnacle of a new beginning landmark, and it's just around the corner waiting for you to set a fresh-start goal. But the fresh start effect isn't enough to ensure you'll achieve your goal once you start–especially if you're like many professionals who tend to set particularly ambitious goals that take time to accomplish.
4 Steps to Achieve Your New Year's Goal without Burning Out
Here are four steps to set yourself up for success to follow through on your goals this New Year, without burning out and even after the fresh start momentum fades.
#1. Get Intentional.
Getting clear on why you want to achieve your goals will support you to maintain sustainable motivation over time, even when tangible results are months away.2
Let your mind and imagination paint a detailed picture of what's possible once you achieve your goal. What does your life look like once your goal is in process or fully achieved?
#2. Be Specific.
You've likely heard about setting SMART goals, or goals that are specific, measurable, attainable, relevant and time-bound. Although the strategy is widely practiced, more research is suggesting the acronym doesn't fully support you to set and achieve your goals.3
While you still might choose to write your New Year's goal using the SMART acronym, get specific with questions that address more than the quantitative data that may accompany your goal. A more holistic level of specificity will support you to persevere and adapt with your goals as your plans and circumstances inevitably change throughout the year.
Milestones are another measurable and specific way to accomplish your goals. Milestones are targets you achieve along the way that allow you to monitor your progress, while also making the overarching goal a little less overwhelming.
What do you imagine your personal experience to be when you make it through a challenging time, persevere, and accomplish whatever you've set out to do? Can you imagine what you will feel like, or what other opportunities may come as a result, once you surpass a goal milestone or complete it all together?
#3. Set Non-negotiables.
To foster perseverance and balance as you pursue your goal, it's important to consider what you are not willing to compromise in the process. This point directly addresses the intention to accomplish your goal without burning out.4
Once you achieve your goal, you don't want to look back at the choices and sacrifices you made with a sinking feeling in the pit in your stomach that says, "this wasn't worth it." Proactively, this step supports you to work toward your ambitious goal while sustaining your well-being and holistic happiness along the way.
What are your non-negotiables? What are you not willing to compromise (even if it brought you closer to your goal) because if you were to compromise this non-negotiable, it would negate the fulfillment you expect from your goal in the first place? What aspects of life support you to stay balanced as you pursue goals long-term?
#4. Know Your Strength.
Are you more action-oriented, or intention-oriented? If you're action-oriented, you're a doer; you follow the rules and implement the plan. If you're intention-oriented, you're a dreamer; you craft the vision and write the plans. Knowing your strength helps you to trust you have that part of the goal-setting puzzle covered, while cluing you in to which piece you may need more accountability with as you pursue goals long-term.
Purposefully incorporate your lesser-strength to create balance–so you not only maintain motivation, but remain clear on why you're motivated; so you not only stay accountable to your action plan but keep perspective on your greater direction and holistic well-being along the way.
We Can Help
As part of your Employee Assistance Program through VITAL WorkLife, you have access to counseling anytime—day or night to help guide you through challenges you may be facing, or goals you wish to attain in the New Year. We are here to support you with any dimension of your well-being–including physical, relational, emotional, professional, spiritual, legal and financial.
To speak with a counselor or coach, contact us at 952.230.5117 or access support through your VITAL WorkLife App.
Sources:
Dai, H., Milkman, K. L., & Riis, J. (2014). The fresh start effect: Temporal landmarks motivate aspirational behavior. Management Science, 60(10), 2563-2582.
Maik Bieleke, Lucas Keller & Peter M. Gollwitzer (2021) If-then planning, European Review of Social Psychology, 32:1, 88-122, DOI: 10.1080/10463283.2020.1808936
Christian Swann, Patricia C. Jackman, Alex Lawrence, Rebecca M. Hawkins, Scott G. Goddard, Ollie Williamson, Matthew J. Schweickle, Stewart A. Vella, Simon Rosenbaum & Panteleimon Ekkekakis (2022) The (over)use of SMART goals for physical activity promotion: A narrative review and critique, Health Psychology Review, DOI: 10.1080/17437199.2021.2023608
Adriaenssens, J., Gucht, V.D. and Maes, S. (2015), Association of goal orientation with work engagement and burnout in emergency nurses. Journal of Occupational Health, 57: 151-160.

https://doi.org/10.1539/joh.14-0069-OA