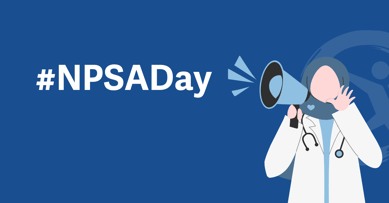 Today, VITAL WorkLife honors National Physician Suicide Awareness Day (NPSA Day). This day brings awareness to shifting the health care system from one where physicians think that burnout, depression or suicidal thoughts must be overcome alone, to one where they engage with the support system around them. As a NPSA Day Supporting Organization, and a leader in supporting healthcare organizations, VITAL WorkLife is committed to sharing a variety of resources and information all month long to help bring awareness to this complex topic.
"VITAL WorkLife's focus has for 15 years has been on supporting the well being of physicians and clinicians. We are proud to be a supporting organization of NPSA Day. This day is a reminder and call to action to give care to those who care for others," said Mitch Best, CEO of VITAL WorkLife.
Physicians have one of the highest suicide rates of any profession. More than half of physicians know a physician who has either considered, attempted or died by suicide in their career. Sadly, many physicians also do not know where to go for help.
This September, VITAL WorkLife published a new article series on the stigma surrounding physicians seeking help. VITAL WorkLife offers healthcare organizations—no matter what size or where they are in the journey of supporting physician well being—a comprehensive suite of solutions designed specifically to reduce the effects of stress and burnout and improve work/life fulfillment while increasing awareness and implementing measures toward suicide-prevention.
Now is the time to get these mental, behavioral and emotional health resources in the hands of physicians. Access and share the suicide prevention resources for immediate and ongoing physician support, and the resources health and hospital systems can use to improve physician wellbeing.
About National Physician Suicide Awareness Day
National Physician Suicide Awareness Day (#NPSADay) is a reminder and call to action. It's a time to talk–and to act–so physicians' struggles don't become mental health emergencies. Prevention begins with learning the signs, starting the conversations, understanding and removing the underlying barriers and sharing the resources that can help those in distress seek mental health care. National Physician Suicide Awareness Day is an annual event that takes place on September 17, with a mission to break down the culture of silence around physician mental health. Learn more at NPSADay.org.
We Can Help
Whether you are feeling overwhelmed with the stressors of life or struggling to find the right way to support a friend or family member in need, VITAL WorkLife is here to help. We have numerous resources supporting every aspect of your well being, from in-the-moment telephonic counseling to peer coaching.
We are available day and night at: 800.383.1908 for EAP Clients; 877.731.3949 for Physician Well Being Resource Clients to support you and those you care about.