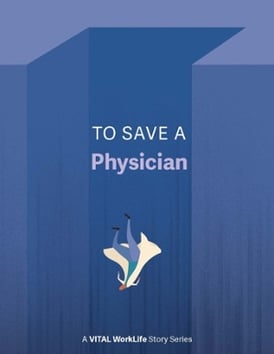 To Save a Physician – a VITAL WorkLife Story Series – is published in alignment with National Suicide Prevention month and Physician Suicide Awareness Day on September 17th. It shares a powerful story about a physician who took his own life and the impact it had on his colleagues at this fictional healthcare organization. In particular, this story follows another physician in the organization who is also struggling.
"My hope is that you, who are healers, will recognize the sort of pain that he felt and find a way to lessen it for the other healers at Memorial."
The purpose of the eBook is to bring more awareness to the very serious issue of physician suicide. While this is a fictional story, it is an all too common actual occurrence today and has been amplified by the pandemic.
Click HERE to download: To Save a Physician
We Can Help
VITAL WorkLife offers healthcare organizations—no matter what size or where they are in the journey of supporting physician well being—a comprehensive suite of resources designed specifically to reduce the effects of stress and burnout and improve work/life balance while increasing awareness and implementing measures toward suicide-prevention. Contact us online or at 877.731.3949 to learn more.
If you're thinking about suicide, are worried about a friend or loved one or would like emotional support, the National Suicide Prevention Lifeline is available 24/7 across the United States. Call 800.273.TALK (8255) or CLICK HERE TO CHAT with a counselor.