The best healthcare leaders know even under normal circumstances, medicine is a stressful field—and contemporary medicine adds stressors like productivity requirements, technological challenges and an aging physician population with multiple comorbidities, to name a few.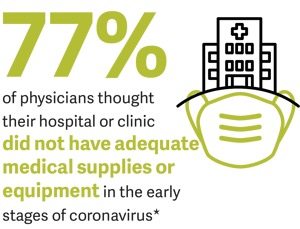 Then add a deadly global pandemic where recommendations are changing rapidly, there are few consistencies a lot is unknown—with the exception of its unpredictability, its tendency to generate "hot spots" stretching resources in those areas to the maximum and the need for public health measures which strain the economy—and with it, the economics of healthcare organizations.
Under these conditions, physician well being—a concern for healthcare leaders in the best of times—comes under sharp attack. As a recent Prudential study of frontline healthcare workers reveals—fear, anxiety, trauma and grief are all-day companions of physicians, advanced practitioners and nurses today.1
Protocols for treating COVID-19 patients are crucial, of course, but the need for a "Pandemic Playbook" to mitigate healthcare workers' stress is also important. The Playbook is a proactive set of principles, rooted in basic values for supporting the medical workforce at any time, but geared to the acute stressors of the pandemic.
The Elements of a Playbook
The study calls out five ways for leadership to meet the mental and emotional needs of healthcare workers. These can serve as the basic structure of a Pandemic Playbook. They are:
Be supportive. Show your face (even if it's on Zoom).
Recognize and reward employees. Even a few minutes of appreciation can do great things for morale.
Over communicate.
Listen. And be prepared to hear hard truths.
Offer mental health support. That is, support that is easy for extremely busy and overtaxed healthcare workers to access—one-click exercise and meditation videos, for example.
For more information on leadership's role in the pandemic, see our article "How to Lead Your Organization Through COVID-19."
---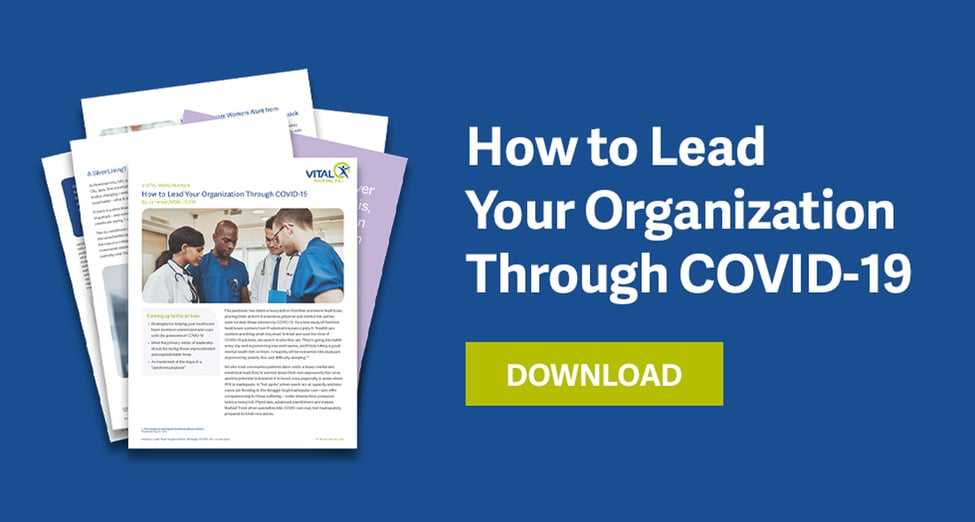 *Leventhal, Rajiv, "U.S. Physicians Surveyed on COVID-19 Pandemic, Front-Line Challenges," Healthcare Innovation Group, April 2nd, 2020