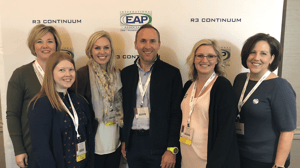 The 2018 EAPA National Conference was held in Minneapolis and brought together employee assistance professionals in varying roles. As a new professional in the Employee Assistance (EA) world, this conference provided me the opportunity to learn information about the emerging dynamics of the profession from colleagues around the world.
EAPA Conference Themes
Three notable themes included:
Inclusion, diversity and belonging in the workplace
Value of the EA industry and an overview of tools for evaluating the effectiveness of EA work
Increased use of technology and the need for EAPs to adapt and evolve
Inclusion and Diversity
The keynote presentations included:
How Corporate Diversity Initiatives, Technology and EAPs Can Come Together to Affect Inclusion
Belonging and Wellness in the Workplace
Perspectives on the Intersection of Disability Inclusion and Employee Assistance
Each keynote spoke to how EAPs can help with mental health support and work retention for diverse communities including employees with disabilities, LGBT+ and the maturing workforce. We are seeing similar topics emerge and have had requests for cultural training and consulting projects on diversity, inclusion and respect in the workplace.
Tool Measuring the Value of EAPs
One panel: EAP Outcomes, Critical Incident Effectiveness Measures and EA Product Extension discussed the Workplace Outcome Suite (WOS) measurement tool, which demonstrated EAP results improved overall well being and contributes to a more productive and desirable workplace.
Technology and EAPs
Two breakout sessions: Hey Siri: Are EAPs prepared for the 2025 Workforce? and Take Two Apps and Call Me in the Morning both emphasized how technology is changing everything. These sessions emphasized EAPs need to adapt in order to stay relevant and increase their engagement, as the workforce changes to include more remote workers and a multi-generational workforce.
This event will help our team continue to learn, grow and provide the best experience possible for our clients, consultants and internal team.
We Can Help
If you are interested in learning more about VITAL WorkLife and our well being solutions for organizations and employees, including our EAP, contact us online.