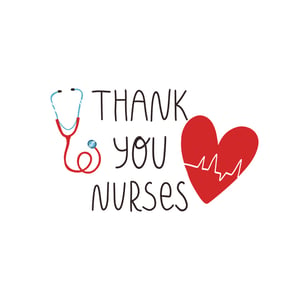 What a time to celebrate nurses. The World Health Organization has designated 2020 as the year of the nurse and midwife, and National Nurse Appreciation Week, which was May 6th-12th, 2020, is extended through May as a month-long celebration. If you know any nurses, send them a big thank you this month! In particular, midwives have done a lot of home births recently due to women being more comfortable delivering at home this year.
All nurses have been asked to go above and beyond during the pandemic. Just in New York, nurses have given their lives and very sadly, a few have even taken their lives. Nurses and all medical personnel are heroes, and heroes can burnout; they are human.
Nurses try to please many people—the patient, patient's family, other staff, lead nurse, their manager, physicians and providers. They often work difficult schedules, switching between day and night shifts. Often, they have families and relationships at home who have a whole different set of needs. With more and more being asked and expected of nurses, they often need emotional support and someone to talk with.
Whether its addressing work/life balance, providing support to those struggling with grief, or just lending a compassionate ear from someone who can relate and understands the struggles associated with being a nurse, VITAL WorkLife provides support to all of these areas and more with Nurse Peer Coaching. Nurse Peer Coaching has helped many of these heroes. That being said—thank a nurse this month and do something special for them, as they give so much to others!
Friendly reminders for nurses to help manage their stressors and live a healthy, balanced life:
Stay connected with friends
Live a healthy lifestyle
Go outside for a walk
Do not be afraid to seek help – self-care is important
I hope you can do something extra special for the nurses in your life as part of National Nurse Appreciation Month!
We Can Help
Learn more about our Nurse Peer Coaching solution and read bios of our Nurse Peer Coaches here.
If you are a member of our EAP solution and want to access Nurse Peer Coaching, call us at 800.383.1908 or connect with us through your VITAL WorkLife App.