What is estate planning?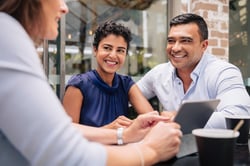 Estate planning is taking legal and financial steps to protect your wealth and ensure your wishes are carried out in the event of your death or incapacity. According to Fidelity, estate planning is a part of financial planning that is often neglected. Fidelity estimates half of the population does not have a will, and fewer still have an estate plan. The answer to the question of "what happens to your assets when you die?" is one many don't take the time to answer.
Similar to how we control where our money goes in life, when you die, you want to be able to control how those things are given to the people or organizations you care most about. To ensure your wishes are carried out with as little financial burden as possible on those whom you give to, you need to provide instructions stating whom you want to receive something of yours, what you want them to receive and when they are to receive it. Examples of what a plan might do, from EstatePlanning.com, may include:
Include instructions for passing your values (religion, education, hard work, etc.) in addition to your valuables.
Include instructions for your care if you become disabled before you die.
Name a guardian and an inheritance manager for minor children.
Provide for family members with special needs without disrupting government benefits.
Provide for loved ones who might be irresponsible with money or who may need future protection from creditors or divorce.
Include life insurance to provide for your family at your death, disability income insurance to replace your income if you cannot work due to illness or injury and long-term care insurance to help pay for your care in case of an extended illness or injury.
Provide for the transfer of your business at your retirement, disability or death.
Steps to minimize taxes, court costs and unnecessary legal fees.
Schedule revisions as necessary. Your plan should be reviewed and updated as your family and financial situations (and laws) change over your lifetime.
Estate planning is much more than just writing a will. Some documents you will likely need to have as part of an estate plan include:
Will or trust. A will specifies how your estate is to be distributed. It is also the best place to designate guardianship. Unlike a will, a trust allows you to specify how and when assets are distributed and appoints a trustee to ensure wishes are carried out. There can be certain advantages to trusts over wills (e.g. avoiding probate), depending on your situation. Contact VITAL WorkLife at 800.383.1908 to set up a free 30-minute consultation with a financial planner or lawyer who can help you distinguish if a will or trust is right for you.
Durable power of attorney. A power of attorney authorizes a chosen representative to make health care and/or financial decisions on your behalf if you are not able to do so.
Beneficiary designations. Who will receive money coming from your retirement funds, bank accounts or life insurance policies in the event of your death? This is determined by identifying your beneficiaries.
Letter of instruction. This letter identifies the people who needed to be notified of your death, provides instructions for funeral arrangements and any last messages to pass along. It is not a will or part of a will and carries no legal weight.
Living will. Your instructions regarding your medical treatment if incapacitated. For example, would you want to be kept on life support if in a vegetative state with no chance of recovery?
VITAL WorkLife Resources
Free 30-Minute Consultation Available
If the process of estate planning seems daunting, fear not; information and assistance is available. A free 30-minute consultation with an attorney, financial planner or both is included as part of a VITAL WorkLife EAP. A financial planner can discuss estate planning, as well as savings, investment and wealth building. An estate attorney can prepare the necessary documents in addition to helping determine what should be in them. As a continuation of your VITAL WorkLife benefit, you can continue working the with each professional at a discounted rate once you have completed your free brief consultation.
Member Site: Online Seminars, eLearning Courses, Articles and Tip Sheets
In addition to a free 30-minute consultation with an attorney or financial planner, the VITAL WorkLife EAP Member Site offers a one hour recorded online seminar entitled Estate Planning: Five Essential Documents. A 15-20 minute self-paced eLearning program of the same name is also available (I'd like to mention that I've participated in both and believe them to be very informative using easy to understand language). Articles and tip sheets are also available on the Member Site and includes Estate Planning for the Middle Class, Writing a Will, Estate Planning: Wills and Trusts, Avoiding Probate, Estate and Gift Tax FAQ, What is Estate Planning and much more.
Contact us at online for more information about our robust EAP offerings.
Additional Resources
Source: https://www.fidelity.com/viewpoints/personal-finance/do-you-need-an-estate-plan