Emotional Intelligence for Physicians and Providers
Emotional Intelligence is the ability to perceive emotions, to access and generate emotions so as to assist thought, to understand emotions and emotional knowledge, and to reflectively regulate emotions so as to promote emotional and intellectual growth. Learn more in our videos Emotional Intelligence for Physicians and Providers and Why Emotional Intelligence is Important for Physicians & Providers.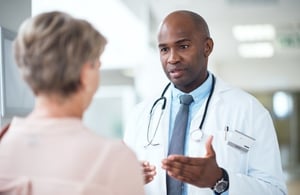 Emotional Intelligence has been identified as a key factor in improving patient outcomes, care team relationships and organizational effectiveness—as well as impacting resilience. In addition to affecting professional and personal success, Emotional Intelligence has an impact on organizational performance and culture.
Some physicians and providers have found a benefit in consciously working to build their emotional intelligence. Many have found that the technical skills and abilities required by their profession can be counterproductive to developing a high degree of emotional intelligence. Traits often ascribed to physicians include:
Perfectionism – often leading to feelings of doubt, guilt and self-criticism
Introversion – more reserved and solitary behavior
Competitive nature – a strong desire to succeed
Preoccupation with order and control
Exaggerated sense of responsibility
All of us are born with the ability to think and feel. Our rational minds work methodically, taking in information and data, running through various scenarios and then helping us make decisions. For quick response situations, it is often our logical/rational minds which take over, and in some cases, ensure our own survival or that of patients. It's important to develop the capacity to identify and manage our emotions to avoid making poor choices or bad decisions.
Physicians and providers are highly trained scientists whose expertise in the field of medicine is significant. Historically, less time has been invested in understanding the emotional side of caring for patients, an important aspect of providing care and achieving patient satisfaction. Physicians and providers who have built emotional intelligence are able to connect with each patient's specific emotional needs and their family dynamics creating a more positive patient experience. Physicians applying their emotional intelligence to their colleagues and care teams are also better at handling stress and building resiliency in the sometimes overwhelming culture of healthcare.
How do I know if I need to improve my emotional intelligence?
It isn't always easy to know if you might need to improve your Emotional Intelligence. Some common indicators may include:
Experiencing anger and frustration regularly
Strained relationships with coworkers
People frequently misunderstanding what you are trying to say
Low patient satisfaction scores
Complaints from patients or care team members
Feeling uncomfortable in emotional conversations
Feeling dissatisfied with relationships with others
Manage your negative emotions. When something is upsetting you, take three deep breaths, consider multiple explanations for your perceived explanation of the event/interaction or check out your perceptions with another, and last but not least, don't sweat the small stuff!
Practice empathy. Keeping in mind the circumstances of those you treat or work with can go a long way to achieving understanding, compassion and effective communication.
Know your stressors. When you are experiencing higher than usual levels of stress, take a break and consider all the contributing factors. If there is something within your realm of control you can do to diminish the stress—do so. Or if there is no time in the moment—promise yourself you'll attend to it in the future. Make sure you have an adequate stress management plan you can execute when needed, as well as an overall strategy for self-care. Use mindfulness practices, like deep breathing exercises to manage stress in the moment.
Peer Coaching. Take advantage of Peer Coaching through VITAL WorkLife. Your coach will understand the challenges you are facing, and can offer new, different ways of thinking about difficult situations and how they can be approached. Coaches can also offer tips and strategies to improve your self-awareness, self-management and social awareness. These healthy conversations, over time, can lead to an improved emotional intelligence.
Read more about What is Physician Peer Coaching and The Benefits of Peer Coaching.
We Can Help
Emotional intelligence is an important facet of practicing medicine, caring for patients and working on teams. Peer coaching from VITAL WorkLife can offer an outside, expert opinion from someone who has been where you've been and can provide you with valuable insights into understanding your emotional intelligence. A peer coach can help you create a plan for stress management, self-care or just be someone who will listen and help you through difficult situations.
Contact us at 877.731.3949 or through the VITAL WorkLife App to access your resources today.
Sources:
http://www.sonoma.edu/users/s/swijtink/teaching/philosophy_101/paper1/goleman.htm

Salwitz, James D. MD. https://www.kevinmd.com/blog/2015/10/for-doctors-to-survive-today-they-need-emotional-intelligence.html

https://www.healthcarefinancenews.com/news/boosting-emotional-intelligence-physicians-can-protect-against-stress-burnout
https://owlcation.com/social-sciences/Why-Emotional-Intelligence-is-More-Important-Than-IQ