New program at the University of Minnesota Medical School may help reduce stress and burnout, physician shortage.
This week we heard about a new pilot program at the University of Minnesota Medical School allowing students, based on their competency, past experiences and education, start their residency program earlier.
This program, currently for the pediatrics specialty at the University of Minnesota, has many potential benefits: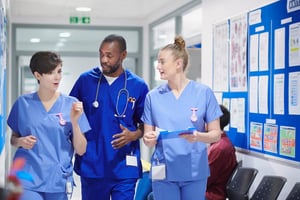 Starting residency sooner would equate to a major savings in students loans
Could help reduce stress and burnout due to less worry about loans and they would become practicing pediatricians faster, their ultimate goal
According to a Fox 9 News story on the program, "One of the biggest benefits, according to several studies, is that it cuts down on expenses and burnout rates. Many students say that fact was key when deciding on which medical school to attend."
It also creates more (and earlier) opportunities for hands-on patient care experiences and for participants to build patient relationships. For students going through the program, shortening the time in medical school can reduce the amount of student loans. This reduction in debt can significantly help with stress levels. Plus they are making money sooner to pay loans back.
However, just like anything else, there are potential drawbacks. Starting in a residency program while others have already been in the program for some time may make the adjustment period more challenging. Plus, the program may not be right for everyone, especially if the individual wants to explore all areas of medicine before deciding on a specialty.
It will be interesting to see how the pilot program plays out and how it impacts the future of medical school and residency programs. For more information on the program, read these articles from MinnPost and Fox 9 News.
We applaud this approach for a profession that has been under siege for so long. If this approach is successful, even for a few specialty areas, the acceleration of physicians entering practice could help address the ongoing physician shortage because more physicians would be completing their training sooner.
Sound off:
What do you think about this new program?
If you were a current medical student, would you be interested in participating in this program?
Did you know what you wanted to specialize in early on?
We Can Help
Interested in learning more about VITAL WorkLife and physician stress and burnout? Download our physician survey on stress and burnout and additional reports or download our article on How to Lead the Way to Physician Well Being.