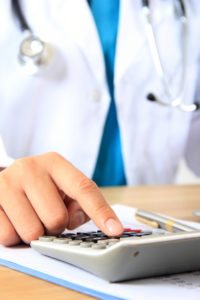 As a physician/provider, have you ever felt stressed from your financial concerns (or debt)? Physician and provider debt can sky rocket with eight years of advanced education—medical school and residency—and high interest rates. According to the Association of American Medical Colleges, 75% of the 2017 graduating medical school class carries student loan debt.

The median sum of debt for these students' undergraduate and medical school education is $192,000.

Furthermore, an MDLinx.com/M3 Global Research survey found 52.6% of physicians below the age of 50 were dealing with student loan repayment, and 5.1% of physicians over the age of 50 were still paying off loans.

Mounting debt on top of the unique challenges facing physicians and providers can lead to higher levels of stress and burnout.

A study in the 2016 Journal of the American Board of Family Medicine noted a correlation between high debt levels and "callousness, stress, suicidal thoughts, failing medical licensing exams and leaving or being dismissed from medical school." High debt may also prevent or delay buying a home or starting a family, in addition to possible psychological and emotional affects.


Stress over loan repayment and other financial matters can range from mild to severe, so getting the right financial information and advice is crucial, and can help minimize stress. Choosing the best plan to fit your financial situation and goals requires reputable information and may include professional advice.

There are a variety of loan repayment plans available, including federal income-driven plans, traditional plans or you can refinance with a private lender. There are also various repayment and/or forgiveness programs available through private, public or state programs.

An effective plan can help to manage or reduce stress over financial concerns. To start the process, know what you owe and what you own; what you spend and what earn.
If you don't know where you stand, track your spending for a few months. Use a tool such as the National Foundation for Credit Counseling tool to help track your spending
Calculate your net worth by listing assets and liabilities by using this Bankrate.com calculator
When you know these variables, review the publications listed below, which may prove sufficient in helping you decide the appropriate plan of action
Some physicians and providers may benefit from a consultation with a financial planner, financial counselor or repayment consultant. As part of your Physician/Provider Well Being Resources, VITAL WorkLife offers a free 30 minute consultation with a financial counselor, which can be a great step in developing/revising a repayment plan.
Additional Sources
The Association of American Medical Colleges 2018 Education Debt Manager for Graduating Medical Students includes a side-by-side comparison of repayment options. This publication also offers a wealth of relevant information for any physician or provider with concerns around finances and/or repayment, not just graduating medical students.
The White Coat Investor
Discover information on debt management, investment, retirement and building wealth. Specific student loan refinancing information can be found here:
We Can Help
VITAL WorkLife counselors and financial consultants stand ready to assist members wishing to explore ways of managing stress related to financial concerns. Learn more about our Physician/Provider Well Being Resources and explore your financial well being through our VITAL WorkLife App – take a brief screening/assessment, review recommendations and set goals to help improve your financial well being.
MEMBERS
If you are a member of one of our solutions, give us a call if you need help; we're available anytime, day or night.
EAP members: call 800.383.1908
Physician and Provider Well Being Resources members: call 877.731.3949
FOR MORE INFORMATION
Contact us to learn more about our well being solutions designed specifically for physicians and providers.
Sources:
Association of American Medical Colleges. Education debt manager for graduation medical students. https://members.aamc.org/eweb/upload/2018%20Education%20Debt%20Manager%20for%20Graduating%20Students.pdf(1).pdf. Published January 2018.
Murphy J. Half of physicians under 50 still have student loan debt, survey finds. MDLinx. https://www.mdlinx.com/practice-management/article/1394.Published January 29, 2018.
Wisenberg Brin D. Taking the sting out of medical school debt. AAMCNews. https://news.aamc.org/medical-education/article/taking-sting-out-medical-school-debt/. Published April 4, 2017.
Kirkham E. Medical School Debt: Repayment Guide for New Doctors. Student Loan Hero. https://studentloanhero.com/featured/ultimate-student-loan-repayment-guide-for-doctors/. Published February 26, 2018.