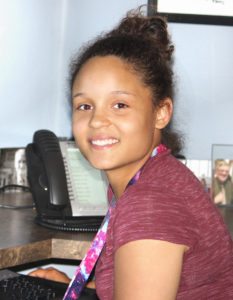 Perrier meets with Tech High School students to discuss and answer questions regarding their interests in medicine, education, social work, engineering and computers. They use the Minnesota Career Information System (MCIS) and the Minnesota DEED website to research jobs, salary ranges, graduation outlook, and educational opportunities. Students also practice interviews and work on resumes. Aliyah Price, Student Intern, Pictured Right.
Youth At Work — A Great Experience for Organizations
Nicole Hale, VP of Finance and Administration for VITAL WorkLife, explains the positive experience from the host company's perspective, "We had our first youth intern from the St. Cloud Chamber of Commerce program last summer. It worked out so well we asked her to stay. So when Chris asked us about the Youth at Work Program, we wanted to give it try. The collaboration between VITAL WorkLife and the Minnesota WorkForce Center alleviated the recruitment and administrative aspects of an internship program and we've been able to work with some very talented youth. We've had great experiences and we have called back interns for work on projects even after the internship is over.
The interns have helped staff from becoming overburdened and have been able to get some extra projects done. The program is an inexpensive resource, as the pay is covered by the Minnesota Workforce Center. We're able to support our local students by helping them gain experience, develop skills, make connections, strengthen their resumes, learn about a professional field and assess their interest and abilities."
In our case the students were able to obtain hands-on training, real experience and mentoring opportunities with a smaller organization. The WorkForce Center program is particularly beneficial, because it enables economically disadvantaged youth and students from other cultures — who might not have otherwise considered us, or small business, as a future employer — to experience and get to know our company. Providing internships allows VITAL WorkLife to facilitate a positive future between the company, our employees and our local youth."
Youth At Work — A Great Experience for Students
Perrier says, "We try to place the students in an internship-style job with a local employer to give them experience in their career choice. VITAL WorkLife worked out perfectly for us because they offered experiences in mental health, computer, office work and even some entry-level accounting. I was very thankful VITAL WorkLife was willing to work around school activities, bus schedules, the students activities and homework, but I was more impressed by how patient and helpful everyone at VITAL WorkLife was to the students. These kids might not get the chance to work in an office, it might be their first job experience or they may even have some language barriers. VITAL WorkLife is an excellent community partner and role model."
The students also had positive things to say:
"The team at VITAL WorkLife has been kind and very welcoming to me throughout my experience. I really enjoyed and benefited greatly from this opportunity. It was truly an eye-opening experience and it taught so many essential things about the work environment. My verbal and nonverbal communication skills have come a long way thanks to this experience. It also taught me how to get out of my comfort zone and still manage to act accordingly. I also picked up some new skills, such as how to use a copier and scanner. I also learned how to test and replace certain electronics." –Khadar Abdi
"My experience with The Youth at Work program and VITAL Work Life has been great. My first day coming into the office I was a bit nervous, but the work environment here is so welcoming that within a couple of days I felt a part of the team. Some of the things I've learned from my time here is how to file, organize, put data into the computer along with other office skills. The Youth at Work program helps me get a real life work experience that will influence my future. I would encourage other youth to try a program like this, not only because it's a great opportunity, but also because you learn new skills." –Aliyah Price
For More Information
For more information about our comprehensive suite of well being solutions, contact us online or at 800.383.1908.
Click on the links below for more information about the Youth at Work Program.