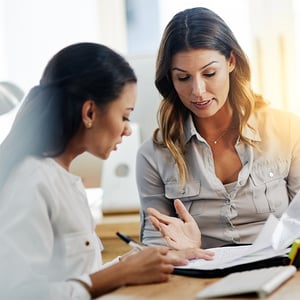 Performance based and chemical assessment referrals continue to be important resources that we offer to our EAP clients. They're highly utilized—and effective—and we wanted to make sure that you're up to date on some changes we've made.
For those of you who are not familiar with these services, here's a quick primer:
Performance Based Referral
A performance-based referral is made when an employee's work performance has shown a pattern of decline. Other reasons for doing this may include:
Efforts to change problem behaviors have not been effective.
An employee exhibits inappropriate or threatening behavior.
There has been a violation of the organization's drug or alcohol policy, or other policies of concern.
We have trained professionals who can:
Provide guidance on how to communicate the performance problem to the employee; and
Explain how you can offer assistance in the most appropriate and effective manner.
The EAP can be particularly valuable in assisting the employee in addressing personal problems that may be contributing to the decline in work performance. And, it's important to remember that a consultation is available to you and your managers prior to making a referral to determine if it is the appropriate approach to take for the presenting problems.
Chemical Assessment Referrals
Similar to a performance based referral but, as the name suggests, are focused specifically on cases where alcohol or drug abuse or misuse is suspected that are impacting the employee's ability to perform his or her job. Other considerations include protecting the safety of the employee, as well as co-workers, customers or other parties the employee may have contact with.
For these referrals, we have specially-trained chemical dependency counselors who can evaluate the employee and, if necessary and appropriate, recommend a course of action for treatment, assist in ensuring the employee gets the treatment or support needed, and evaluating return to work options.
Remember, these are voluntary programs and even in the case of a performance-based referral, the decision to use the program is ultimately up to the employee. Performance-based referrals are not disciplinary measures, nor do they replace standard policies and procedures for dealing with poor work performance, drug testing or federal regulations. Chemical dependency referrals, depending on your drug and alcohol policies, may have a more central role in determining whether or not an employee can or should return to work.
Using the Programs
The process for accessing the programs has not changed. They start with having a release signed by the employee, which allows VITAL WorkLife to provide the services and also provide limited information back to the employer contact about the case.
However, we have made updates to the release forms. Copies of these, and the process to follow, are included in our
. Please utilize these with any new referral and please pass along to any team members who may be making referrals within your organization. This will further assist the EAP in providing efficient services and consistent exchange of information in supporting your organization and the employee who may be struggling.
The main changes are around the disclosure area and recommendations from the counselor.
We adjusted the form so all areas are disclosed unless the employee strikes out and initials specific sections.
We made changes in the disclosure area which are more specific to what we obtain in our recommendations from the counselor.
We made changes in the recommendation area on the Performance Referral to be consistent with disclosure items.
Explore Your Manager Resources
At the start of a new year, it's a great time to encourage managers and supervisors to understand the many ways that VITAL WorkLife can support them. Our
provides a great overview of the different tools and resources available to you and your managers. Our
is also a great resource when considering a making a referral.
We also have a
available on-demand for your management team.