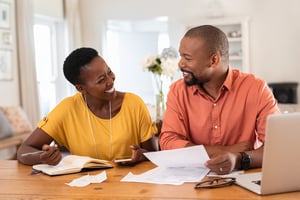 We are excited to announce that we have made some significant enhancements to our legal and financial benefits for all of our customers. We've created a new "Legal and Financial Benefits" section on the member portal on our website to explain these benefits in detail.
As part of your EAP benefit you, your employees and their family members now have access to a network of attorneys and certified financial consultants made up of more than 17,000 local professionals nationwide, each with over 10 years of experience, expertise and a solid local reputation. With a phone call to 1.800.383.1908, those needing assistance will be transferred to find an attorney or financial consultant in their area.
The legal benefit starts with a call for a free, 30-minute confidential consultation with an attorney who can help clients understand their issues, explain their options and provide general advice, depending on the nature of their issue. Attorneys can address almost any issue (please see the website for the few exclusions) including:
Family Issues: Divorce or separation, child custody, child support, adoption, juvenile issues, guardianship, elder law
Property & Contracts: Contractor issues, lease agreements, buying or selling a home, foreclosure
Criminal Offenses: Traffic tickets, Driving Under the Influence (DUI), domestic violence
Financial Issues: Estate planning, probate, tax audits, insurance, bankruptcy, debt collections, identity theft
Personal Injury: Social Security/disability, personal injury lawsuits
Basic Legal Services — Provided Free Of Charge
A new feature is that, for general legal questions, the initial 30-minute consultation can often give client the answers they need to resolve their issue, plus additional benefits. Services provided free as part of this initial legal consultation can include:
Simple Dispute Resolution When a dispute arises with a third party, if the Plan Attorney determines that a simple letter or a phone call to the opposing party is likely to resolve the dispute, this service is provided at no charge.
Short Document Review A free review of any legal document six pages or less is provided as part of the benefit.
Simple Wills If a client's needs and circumstances fit the parameters of a Simple Will by their state's definition, creation of their will is covered 100%. Our website contains information on how to determine if clients need a Simple Will or a more complex will.
Plan Attorneys are not able to give personal opinions during a consultation, review lengthy documents or instruct clients on how to practice law. One consultation per issue is provided free of charge—but there's no limit to the number of issues we can help clients address.*
Should clients need to retain or use their attorney's assistance beyond the initial consultation, they will receive a 25% discount off the attorney's normal hourly rate.*
Free Financial Counseling Services: Confidentiality Guaranteed
A free, 30-minute confidential phone consultation with an experienced and certified financial counselor can help clients find possible causes and solutions to their financial problems. Areas where they can help include:
Budgeting Counselors can provide a consultation and materials for personal or family budgeting.
Financial Planning Clients can receive a free initial consultation, and 15% discounts for ongoing work off their standard hourly rate, when working with a Certified Financial Planner from our network of providers for assistance in investments and other financial planning needs. Whether clients have questions related to their retirement, their investments or want to start saving for a child's college fund, we can help.
Debt Management Programs Clients can possibly consolidate their debt into one, lower monthly payment, while learning ways to improve their financial health through better debt management and credit repair.
As with all of our services, those who call won't get voicemail. A person will answer the phone and ask how we can help. We'll ask a few screening questions just to make sure we're directing clients to the right professional and then "warm transfer" them to an appropriate provider who can make an appointment for them.
Online Legal & Financial Resources: Powerful Problem-Solving Tools
In addition, as part of this expanded VITAL WorkLife benefit, clients have unlimited access to our rich web resources where they'll find articles, information and resources about legal and financial issues including a document library that contains, among many others, forms for:
Living Will Declaration & Revocation of Living Will
General and Special Durable Power of Attorney
Last Will & Testament
Estate Planning Worksheet
Sample Letters to Insurance Company/Debt Collector/Hospital Regarding Disputed Bill
Contract for Home Maintenance/Simple Home Repair
Motor Vehicle Bill of Sale
Accessing these resources is easy. Simply follow these steps:
Go to VITALWorkLife.com, click on Member Login.
Enter your username and password, then click submit.
Go to the third shaded box from the top which says: "Click here to learn more about and access our legal and financial services."
In the shaded box that comes up, click on "Click Here for online Legal and Financial Resources" OR you can click on the dark green box on the left side of the screen that says: "Click here to go to your online Legal & Financial Benefits."
* For more information about what services are not provided free of charge, ask the legal or financial expert who takes your call or visit us online at VITALWorkLife.com.